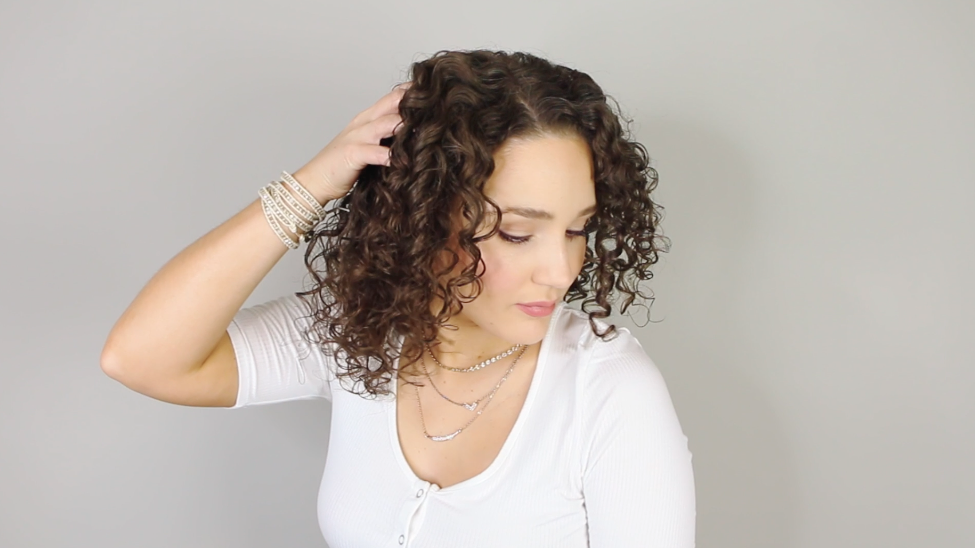 The density of our hair refers to how many strands of hair we have on our heads. These range from low, medium, to high. Many factors determine how much hair we have such as genetics, aging, and internal factors such as nutrition, health conditions, and hormones. Understanding your hair's density can be beneficial when choosing what products and techniques can best help you achieve your hair goals, such as more or less volume.
Table of Contents:
What Causes our Hair Density?
Internal factors are the most common causes of changes to our hair's density. Genetics and aging are natural occurrences that we cannot change, only manage. A reduction in your curly hair's density can be an indicator of health conditions, hormonal changes, or a lack of key nutrients in our diet.
Genetics
Just like hair texture, natural density also varies based on ethnic background. Studies show that Caucasian hair can have the greatest number of hairs per square inch, followed by Asian, Hispanic/Latino and African ethnicities.
Aging
Along with genetics, studies show that aging plays a major role in how dense our hair is. As we get older, our hair can become thinner or less dense naturally. This is due to more hair remaining in the resting phase of the hair growth cycle, resulting in more shedding. The highest density of hair is observed between 20-30 years old, declining in density beginning at 35 years old.
Health/diet
Internal factors such as nutrition, stress, hormones, and health conditions have the most impact on hair density. Hair loss can occur from nutrient deficiencies such as a lack of iron or protein. Health conditions that often cause hair loss include thyroid disease, autoimmune diseases, polycystic ovary syndrome (PCOS), and skin conditions such as psoriasis and seborrheic dermatitis. Hormonal changes such as after pregnancy, menopause, or discontinuing the use of birth control often result in temporary hair loss. Severe illnesses, stress, and extreme weight loss are also said to cause temporary hair thinning and hair loss.
The Different Types of Hair Density
The three types of hair density are referred to as low, medium, and high.
High Density
High density hair often does not have a visible scalp. The hair can feel heavier and strong hair ties are needed when wearing high density hair up in a ponytail. Volume and fullness within the hair is usually not an issue with high density hair.
Medium Density
Medium density falls in the middle, where the scalp may be somewhat visible but the hair follicles don't appear sparse. Volume can be achieved in medium density hair with the right stylers and proper styling techniques.
Low Density
Those with low density hair often have a visible scalp with an apparent part and overall greater spacing in between hair follicles at the scalp. Low density hair struggles to appear full and voluminous. Your ponytail may feel very small and you might find you need to wrap your hair ties around multiple times for them to hold your hair.
How to Test Your Curly Hair's Density
Density is measured scientifically by counting the number of hairs per square inch. At home, you can determine your density by measuring the circumference of your ponytail. Gather your dry hair into a low ponytail. Using a flexible measuring tape, wrap it around the base of the ponytail and make sure it's snug.
High density: Greater than 4 inches
Medium density: 2-3 inches
Low density: Less than 2 inches
If your hair is too short to put in a ponytail to measure, you can determine your hair's density by observing the scalp and how visible it is, and how prominent or wide your part is. If you can easily see your scalp in various areas of your hair or throughout, you may have low density hair. If you cannot see your scalp at all you likely have high density hair. Reference to how much of your scalp is visible is also included in the curl quiz to help determine what products are best suited to your curly hair type.
How Does Hair Density Affect your Hair Routine?
It's important to understand your hair's density in order to find the right hair routine and products. Depending on your density, you will want to adjust the amount of product you apply because you will have more or less hair to cover. Low density hair will require less product, and high-density will require more.
It's also important to determine the results you're trying to achieve. If you have low density hair and your goal is to achieve more fullness and volume, you will want to adjust your styling techniques for fullness. Separate curl clumps for a fuller look, brush style your hair straight up for root lift, and diffuse upside down for volume.
If your goal is to minimize the volume in your hair density, you may want to use styling gels or creams that are a bit heavier and create an elongated look, apply them by raking in a downward motion, avoid too much scrunching, and hover diffuse or air dry.
How to Select Products Based on Density
Selecting the right products for your hair's density also goes back to determining your hair goals and the look you want to achieve.
Volume
Want more volume and fullness? You may want to opt for lightweight products to avoid your hair getting weighed down, especially if you have low or medium density hair. For example foams, mousses and gels that have a thin consistency with a water-based formula are great to achieve this result. You can find them in the Curlsmith line with the Bouncy Strength Volume Foam and the Shape Up Aqua Gel. You also may want to avoid products that contain heavy oils and butter ingredients, and those that have a very thick consistency. If you have medium or high density hair, you can also use lightweight or medium-weight products if your goal is to maintain volume. Medium density hair will typically do best with light to medium-weight products and can use a range of styling creams, gels with a jelly-like consistency, foams, and mousse. Something like the Hold Me Softly Style Balm or the Curl Defining Styling Soufflé for example. Medium density hair may also tolerate heavier-weight products if only a small amount is used.
Elongation
For those with high-density that are looking to reduce overall volume, use products that contain oils and butters to help elongate the hair. Products with these ingredients are usually oil-based such as thick gels and rich butter creams. In the Curlsmith lines, you can try the Curl Conditioning Oil-in-Cream and the In-Shower Style Fixer.
Curl Density Conclusion
Understanding your hair's density is one of the most important characteristics to know about your hair when developing your curly hair routine. In most cases, hair density is part of our natural genetics and cannot be changed, but with proper styling techniques and by selecting the right products you can achieve your hair goals. When you understand your hair density, together with its texture, porosity and curl type, you can create the perfect routine for your unique hair needs. And if you're still struggling, head over to our curl quiz for a little help!