All New Compact Defrizzion Dryer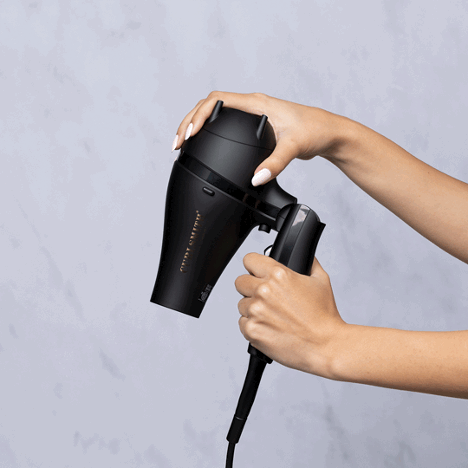 A travel dryer for curly hair is an essential item whether you're exploring long-haul destinations or whisking off to a weekend staycation. One thing that remains constant is the need to look and feel your best, that's where the all-new Compact Defrizzion Travel Dryer comes into play – a compact, lightweight, and powerful hair dryer designed specifically for all curl types. 
In this blog post, we'll dive into the exciting features and benefits of this revolutionary travel essential that will change the game for your travel experiences.
Introducing the New Curlsmith Compact Dryer
Lightweight & Compact Design 
When it comes to travel, weight and space in your luggage matters. The Travel Dryer boasts a weight of 485g (a little over one pound!) with an incredibly compact design without compromising functionality. Simply fold the dryer to reduce the size, place it in the velvet carry case and slot it in your suitcase or carry-on bag with plenty of allowances for your other Curlsmith essentials.
Powerful Performance 
Don't let its small size fool you. The compact dryer has cutting-edge far infrared technology that penetrates the hair to reduce drying time and minimize damage. It features a high-performance motor that generates 1875W, the perfect balance between speed and heat to dry your curls quickly and effectively. The Ionizing de-frizzion technology smooths the cuticle to add shine and helps eliminate the dehydration that causes frizz and static.
Dual Voltage Compatibility 
One of the biggest concerns when traveling internationally is dealing with varying voltages. Our Travel Dryer has solved this problem by incorporating dual voltage compatibility. This means you can seamlessly switch between different voltage standards. Whether in France or Mexico, your Travel Dryer will adapt to the local voltage, allowing you to style your curls effortlessly.
Settings
Stay in control when styling your curls with three heat and two-speed settings. Additionally, the dryer features a cool shot button, which helps lock in your hairstyle and provides long-lasting hold. 
What's included in the box
The travel dryer comes with three attachments; the 6-inch diffuser to dry your curls using various diffusing techniques. A comb attachment for stretching your roots or pre-stretching your curls before a protective style, and a concentrated nozzle to smooth the hair. No need to worry about keeping everything safe; we have you covered with a black velvet travel bag that easily fits all attachments and the dryer.
Advanced Features
The Travel Dryer is all about convenience, so we have included a 6-inch diffuse, which we believe to be the biggest on the market. This features deep prongs to allow quicker drying and porcelain ceramic to ensure even heat distribution which means no hot spots. We've also designed a hands-free feature to prevent aching arms during the drying process! Simply tilt the dryer up with the two prongs at the back and relax while the dryer does all the work.
Curlsmith On the Go
Caring for your curls on the go is no longer a compromise; say goodbye to lugging around bulky hair dryers or relying on hotel amenities. The launch of the Travel Dryer is a game-changer for our curl friends. Its compact design, powerful performance, dual voltage compatibility, and advanced features make it the ultimate travel companion to make sure your curls are popping at all times.