What is & How To Use Leave In Conditioner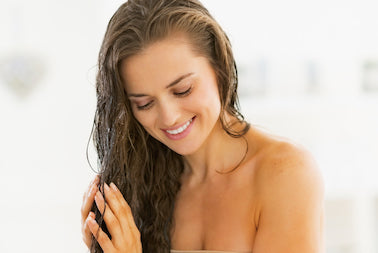 With so many conditioner types on the market you may be wondering what is leave in conditioner and how can I use it for my hair. Whether you have curly, wavy, or coily hair, it makes a great part of your routine to achieve healthy and nourished hair. Leave ins are used in a different way to regular conditioners, so we've got all the details on exactly what they are, why you need one, and which ones are best for your hair type.
How Does Leave In Conditioner Work?
Unlike a normal conditioner, leave in conditioner is left in the hair with no need to wash out. They can also be referred to as no-rinse conditioners. It comes in a variety of forms from sprays, to creams, to butters - so there is a perfect option to suit your preference. They are designed to provide hair with much needed hydration and moisture. This helps to detangle your tresses, and keep them as healthy as possible.
Our leave in conditioners designed for curly hair use gorgeous natural ingredients, like the amazing Resurrection Flower, Andiroba seed and coconut oil. As well as other key active ingredients, helping you achieve your hair goals without the use of sulphates, parabens, silicones, or animal products. These ingredients work to provide hydration and strength to your tresses.
The Power of Leave In Conditioner for Curly Hair
Due to the coils in curly hair, natural oils struggle to transition down the hair shaft. Therefore, hair can become very dry. Hair breakage is more likely to occur when it is dry so we need to add extra moisture to help prevent this from happening. For those dealing with dry hair, leave in conditioner can be a fantastic solution to make your curls feel soft, hydrated, and refreshed. This added moisture from the conditioner also has detangling properties to help make your hair more manageable and many will help protect the hair from heat styling damage. Along with its frizz-reducing properties, it helps you to style your curly hair effortlessly so you can maintain your favourite look.
What are the Different Types of Leave In Conditioner
How leave in conditioners work depends on their format. A spray is often more lightweight and great for a quick hit of moisture for softness and shine. Try our Moisture Memory Reactivator to refresh your curls, the boost of hydration will work to tame frizz and leave locks feeling hydrated.
Creams are another really handy formula. Our Weightless Air Dry Cream will glide through the hair easily. Simply rake through for an even coating, then use the 'praying hands' method to smooth down, taming the cuticles and sealing in the moisture.
For very dry hair, our Oil-In-Cream is a must. Again, smooth through damp hair before styling. For ultra dry hair, our Intense Treatment Serum is the ultimate leave in. It's a butter that melts to an oil, and a little goes a long way! It deeply hydrates, adds shine, helps repair hair damage and smoothes flyaways and split ends.
How to Apply Leave In Conditioner
Most of the time, leave in conditioners are used on towel-dried hair before styling. But some, like our Moisture Memory Reactivator, can be used on dry hair as a refresher between washes. Leave in conditioner is also a great option for those with a little less time to spend on their hair as it's a fast way to add much needed moisture to curly hair. Whereas, deep conditioner benefits very dry hair and can be used when you have a little more time to spend hydrating your hair.
After washing your hair, and drying it until it's damp, pick your favourite leave in conditioner and apply it through the hair strands using the 'praying hands' motion before styling. It really is that simple!
How Often to Use Leave In Conditioner
Leave in conditioner is formulated to be left in the hair in between washes. So you would usually simply use it after your wash, and then reapply the next time you cleanse your hair. However, if you're suffering from very dry hair you may wish to apply it in between washes too. Another factor to consider when it comes to using leave in conditioner is your hair's porosity. Those with high porosity hair may find they need to use this product far more often than those with medium, or low porosity hair.
About Curlsmith Haircare
We are the first gourmet hair care brand specifically created for all types of curly, coily, and wavy hair. Generations of home made hair remedies was our original source of inspiration. Since then we have collaborated with world-renowned trichologists, stylists, and beauty experts to create outstanding hair products you will love. Plus, we are delighted to be certified by The Vegan Society and PETA.