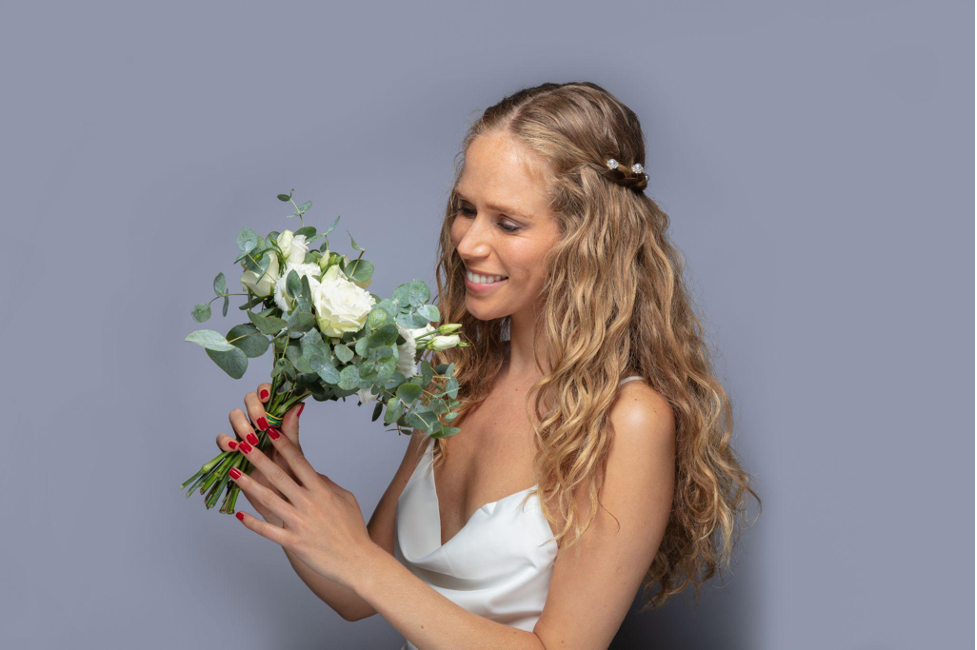 Wearing your curls confidently on one of the most important days of your life is a must! So why is it that when searching wedding hairstyles for curly hair, there seems to be a common trend, the curls are generally manipulated with tongs or straightened? Is this because brides are not confident to ask their stylist to style their natural curls, or that stylists don't know how to style natural curls? Whatever the reason, we all deserve to wear our curls confidently on our wedding day. After all, you only get married once (hopefully), so why not look like yourself rather than a version that isn't typically you. 
Whether you want to embrace your beautiful curls and wear them down, in a bun, or half-up, half-down, there are options to suit all with our guide of four stunning curly bridal looks.
1. Half Up Half Down
How to get the look
Cleanse and conditioner using our Vivid Glow Shampoo and Glow Perfecting conditioner.

Apply our Weightless Air Dry Cream to moisturize and prime the hair

Protect the hair from heat with Miracle Shield 

Apply our Hydro StyleFlexi Jelly for medium hold and weightless definition

Diffuse with our

Difrizzion Dryer and XXL Diffuser

, which has been designed using specific technology to serve the needs of all curly hair  

Use the pixie diffuse method for volume and curl enhancement

Once the hair is 100% dry, break the cast with our Bonding Oil

Make a small center parting at the front of your hair 

Twist the hair on both sides and secure it around the back of your head

Create a bun and pin to secure

Add decorative pins for that special touch
Finish with Flawless Finish flexible hold hairspray for a long-lasting hold and protection against humidity.
2. Simply Out
A hair-up isn't always necessary; why not keep it simple, wear your curls out and finish with diamante detailing, after all, we all deserve to sparkle on our wedding day.
How to get the look
Wet hair and apply our Super Slip Primer 

Clarifying with our Detox Wash and Scrub to remove any product build-up.

Deep condition for up to 30 minutes with our Double Cream Quencher if you have medium to coarse hair, or for those with fine to medium, use our Hydro Creme Soothing Mask

Apply a leave-in conditioner such as our Hold Me Softly 

Protect from the heat with our Miracle Shield 

Follow with Curl Defining Souffle for moisture definition and hold 

Diffuse with our

Difrizzion Dryer and XXL Diffuser

, which has been designed with an 8-inch diffuser for great coverage and even airflow to minimize frizz

Use the hover and pixie method

Once the hair is 100% dry, break the cast and seal the cuticles with our Shine Oil

Part the hair down the center and clip it behind the ears

Finish by adding diamantes
3. Low Bun
Fancy having your curls tucked away? Why not go for a low bun with a featured accessory to add glitz and glam to the special occasion?
How to get the look
Co-wash with our Curl Quenching Conditioning Wash; your curls shouldn't be squeaking clean before a hair-up.

Apply our 3 in 1 multi-tasking conditioning as a leave-in and Miracle Shield for heat protection. 

Follow with our Volume Mousse and Shape-Up Aqua gel to create bouncy curls with a light hold.

Diffuse with our

Difrizzion Dryer and XXL Diffuser

, which provide even, gentle heat to minimize damage and frizz. 

Pixie diffuse to enhance and define curls.

Once 100% dry, break the light cast and seal the cuticles with our Shine Oil. 

Secure the hair in a ponytail

Pin the curls creating a textured bun
Add an accessory and finish the look with Flawless Finish stronghold to fight against frizz, protect from humidity and provide long-lasting hold.
4. Romantic Pin Up
A romantic pin-up is a perfect way to wear your hair up, it doesn't feel too structured, and your curls create amazing natural texture.
How to Get The Look
Cleanse and condition hair with our Essential Moisture shampoo and conditioner. 

Moisturize with our Moisture Memory Reactivator and defend from heat with Miracle Shield.
Follow by applying a gel such as our Shine Jelly, which offers medium hold and definition.

Once the curls are 100% dry, use our Bonding Oil to break the light cast, seal the cuticles, strengthen, and add shine.

Leave curls out to frame the face.

Make a horizontal section across the back of the head and secure the lower section of hair in a ponytail.

Make a loose bun with the ponytail and secure it with pins 

Take curls from the top section and pin them loosely into the bun

Complete the look with Flawless Finish stronghold hairspray for long-lasting hold and protection against humidity.
We all know that curls can be unpredictable, but with the pre-mentioned guides, you are on your way to beautiful curls. However, there are a few key things to keep in mind.
Trim Your Ends
The months running up to the wedding are the time to get your curls in shape. Book a maintenance trim to ensure that your ends are healthy. I would recommend doing this minimum of two months prior. Book in with your regular stylist; now isn't the time to get experimental. 
Deep Condition
Schedule deep conditioning into your hair care routine to ensure that your curls are in tip-top condition. Whether you require protein or moisture, our range of deep conditioning treatments will meet your needs.
Schedule your last wash Day
When to cleanse your curls before your big day is a commonly asked question, and there is no one fits all answer. It depends on your chosen curly hairstyle and what day you prefer your curls. If you are weaning your hair down, you know whether you like your day one, two, or three curls, so time your last wash day with this in mind. If you have selected a hair-up, washing the night before is advised. Ensure that you protect your curls at night with satin, and if any curls need a light refresh, then our Moisture Memory Reactivator is perfect for that.

Your curls are guaranteed to show up on your special day if you show them some love and attention beforehand. Curlsmith is a brand with the best interest of curls at the forefront of every formulation. Our products are cruelty-free and don't contain any sulfates, parabens, or silicones. If you are unsure what products will suit you, head to our Curl Quiz to receive your personalized recommendations and solidify your routine well ahead of your big day.