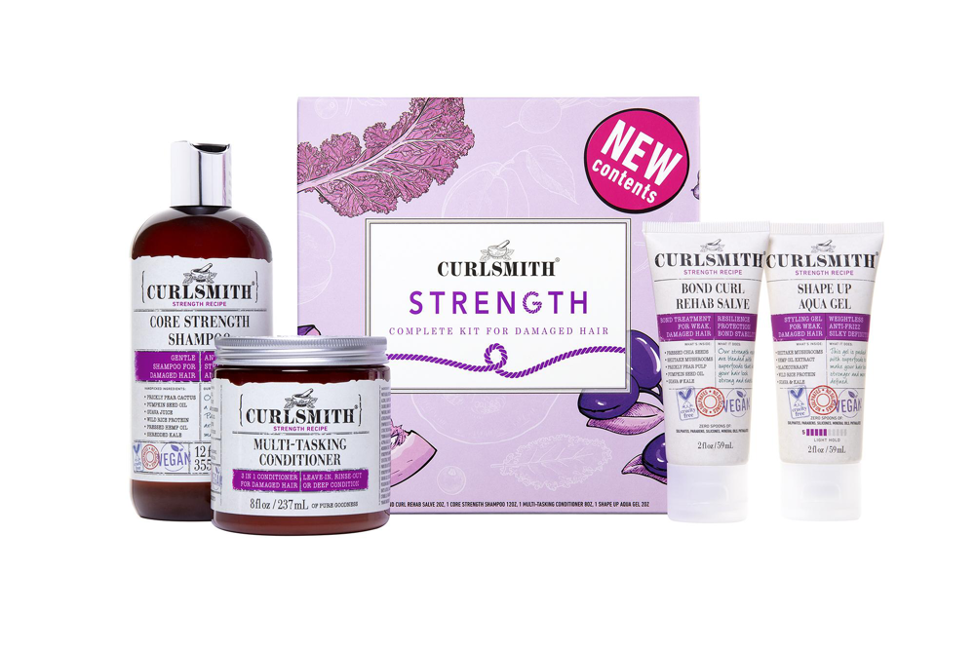 At some point in their hair journey, most of our curl friends have experienced damage resulting in dull, lifeless, limp curls. We all strive to have bouncy, healthy curls, so if we end with damage by unfortunate circumstances, don't panic, it's not the end of your curly journey. Thanks to Curlsmith's new strength kit, you can revive those curls with four amazing products to assist with repairing your tresses from the inside out. Let's look at some of our most common curlfessions that have led to damaged hair and explain how and why you need to use our amazing strength kit.
Chemical Damage
This damage occurs when chemicals such as relaxers, keratins, and color weaken the hair bonds internally and cause damage resulting in breakage.
Relaxers
Depending on the era that you grew up in, most of us at some point wanted super straight hair that did not get frizzy the second we left the salon, and what better option to achieve this than the famous relaxer! The concept of permanently sleek straight hair may have seemed great at the time, but if done incorrectly could cause damage to the internal structure of the hair and cause breakage. Those who did not experience breakage would have gone through the curly regrowth and straight mid-lengths and ends saga. Whatever your experience changing your natural hair is not the answer. It's all about embracing your natural texture; this is when your hair will be at its healthiest.
Keratin
Keratin treatments are a more recent popular treatment designed to strengthen and reduce frizz which to some may seem like the holy grail. However, as with most chemicals, this will change your curls and, if done incorrectly or excessively, can cause damage. The best option is to use conditioning treatments with strengthening properties, such as our Bond Curl Rehab Salve and 3-in-1 Multi-tasking Conditioner. To reduce frizz, opt for stylers like our Shine Gel or In Shower Style Fixer, which features humidity protection and frizz control.
Color
Color is a great way to transform your tresses, but unfortunately, we can get carried away and cause damage, especially with excessive lightening using bleach. That's not to say that color is the forbidden fruit; you can avoid damage with the following advice. Find a professional stylist who understands curly hair; use a bond-building treatment such as our Bond Curl Rehab Salve; map out an after-care routine and stick to it! For all that have experienced damage from color, let's learn from our mistakes and rebuild that strength with the help of our trusted products from the strength recipe range.
Mechanical Damage
Mechanical damage sounds like something that would occur in a car garage, right? Rest assured, in the context of hair; it refers to the damage caused by friction or tension. This can be due to several factors, such as being too rough when using brushes and combs, not protecting your hair at night with satin, securing the hair too tightly, and using the incorrect hair bands. Avoid mechanical damage by bushing or combing when wet with our multitasking conditioner that provides slip to aid detangling with minimal breakage. Sleep at night with an (our for US) satin pillowcase to avoid frizz, friction, and breakage.
Heat Damage
We encourage all our curl friends to embrace their natural curls. However, we do understand that there may be a few occasions where some may want to straighten their luscious locks. If heat is used excessively or at an unsafe temperature without any heat protection like our Miracle Shield, you risk experiencing heat damage. Even if you never use the straighteners and only diffuse, protection is a must. Remember, smart girls and guys always use protection (no pun intended).
Now that we have run through our most popular curlfessions let's discuss the solution. Thankfully we have everything needed to get you started on your road to repair in our strengthening kit. Let's start from the top and work our way through the kit.
Step 1: Bond Curl Salve Rehab
Start with our Bond Curl Rehab Salve, our pre-poo treatment formulated with a triple active bond complex that targets all hair bonds and repairs from the inside out. Wet the hair and work the products throughout your strands; leave in the hair for 15- 30 mins.
Step 2: Core Strengthening Shampoo
Our low poo Core Strength cleanser is designed to remove dirt and build-up; concentrate on only working this product into the roots. Remember to shampoo twice.
Step 3: Multi-tasking Conditioner
This Multi-tasking Conditioner is a rinse-out, treatment, and leave-in conditioner. Enriched with protein at a low level so that it's suitable for frequent use without the risk of protein overload.
Step 4: Shape Up Aqua Gel
Our Shape Up Aqua Gel is a great styler for those with damaged hair as it contains proteins but also offers flexible definition and hold for all curl types.
Ultimately it is highly likely that everyone experiences damage at some point. Remember, it's only a sin if you don't repair your hair with products that serve your needs. Curlsmith has strategically created the strength kit to ensure you're equipped with what is needed to restore your tresses. Our products do not contain paraben, sulfate, or silicone and are suitable for vegans. If you want some additional hair treats to add to your strength kit, head to the website today and take our Curl Quiz to receive your personalized recommendations.