Benefits of a Satin Pillowcase For Curly Hair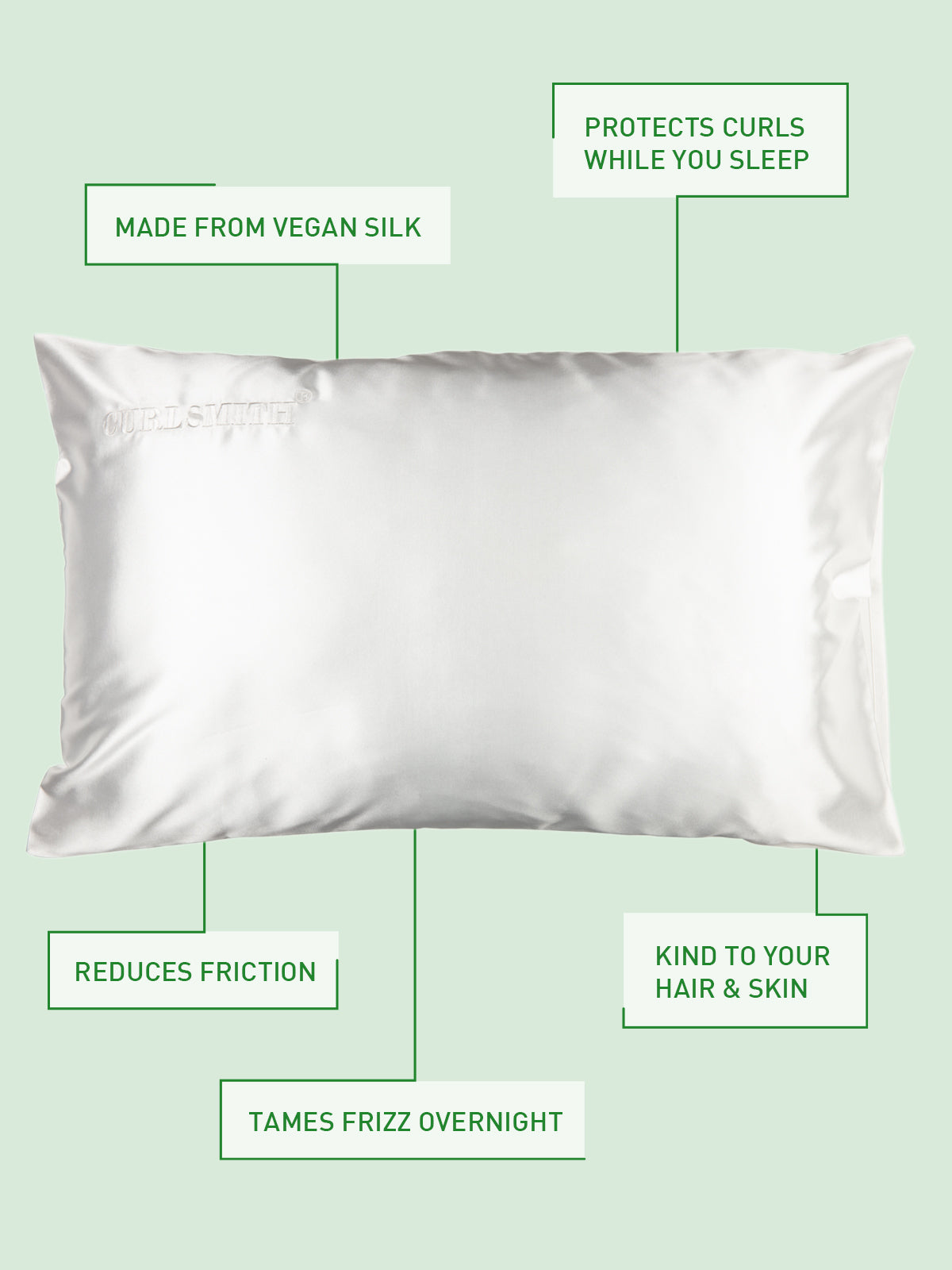 Table of contents
What are the benefits of using a satin pillowcase?
Using a satin pillowcase to protect your hair at night has been a long-standing hot topic in the curly hair community. Failing to protect your hair at night can lead to various issues such as unwanted frizz, tangles and breakage. Even if you have mastered a great hair care routine and achieved the perfect curls, this does not guarantee waking up the next day with shiny, bouncy hair. The benefit of a satin pillowcase is that the above could become a thing of the past.
What are the benefits of switching your traditional cotton pillowcases to satin?
Fortunately, switching from traditional cotton to satin pillowcases will combat many curly hair issues resulting in waking up with intact, healthy hair; it truly is an essential item that all our curl friends should own.
Helps retain moisture in the hair
Cotton is an absorbent fiber, therefore whilst you're sleeping at night enjoying those sweet dreams your cotton pillowcase is busy absorbing the moisture from your hair that you work so hard to retain. This is because of the basic molecule structure of cotton; it is considered hydrophilic; it can't help but absorb any moisture around it. On the other hand, Satin is non-absorbent so allows the hair to retain its moisture.
Reduces breakage
Cotton is rougher than satin regardless of the thread count and can cause breakage at night when you move around. Satin is smooth and soft, allowing your hair to glide across the surface, leading to less breakage, and as we all know, the less breakage, the more length retention.
Preserves your curls
Cotton absorbs moisture from the hair, and the friction between the cotton and hair causes tangles, frizz and breakage. Satin is a smooth anti-static fabric which prevents these issues. Switching to a satin pillowcase can help to preserve your hairstyle by keeping your hair intact, resulting in shiny, healthy waves, curls and coils.
Introducing the Curlsmith Satin Pillowcase
Our Satin Pillowcase is made with 100% Vegan Silk. It's silky, smooth surface prevents friction and breakage whilst you sleep, ensuring that you wake up with tame tresses. Our beautifully designed pillowcase is available in king size, to suit every pillow, so there are no excuse not to add this item to your Curlsmith collection!
Is satin good for the scalp?
The sensation of satin on your skin is silky and smooth compared to rougher materials such as cotton. The smooth surface reduces the appearance of creases on the face; it also helps retain the moisture in your skin, therefore, pairing our Satin Pillowcase with our Scalp Recipe Range can contribute towards a healthy scalp.
What is the difference between silk and satin?
One of the main differences is that silk is a natural animal protein fiber, whereas satin is man-made; it is technically a weave, typically blended with silk or synthetic fibers such as polyester and rayon.
Who benefits from using satin pillowcases?
Everyone! If you have straight, coily, wavy or curly tresses, you can reap the benefits of a satin pillowcase.
Ultimately, making that switch to our Satin Pillowcase will protect your hair whilst you sleep to ensure that you wake up with shiny bouncy curls. Our four-step method provides you with the haircare products to achieve luscious curls; for guidance on what products are right for you, take our curl quiz and don't forget to incorporate our Satin Pillowcase into your nighttime routine to make those curls pop!