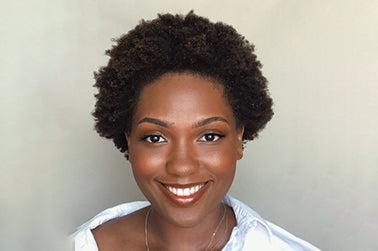 4C hair is recognized within the type 4 hair category and it is the tightest coil pattern. It tends to be tightly packed and therefore experiences a lot of shrinkage. At the same time, it has thin strands that can be particularly fragile and prone to breakage.
What's The Difference Between Type 4 hair & Other Hair Types?
It's easier to understand the different curly hair types when looked at in relation to each other:

Within each of these numerical types there is also an alphabetical type and this explains the size of each curl within the category. Type C is the tightest curl size, type A the largest curl size, and type B sits between the two. Type 4C hair is the tightest Z-type pattern, making it the most densely packed curl type.
10 Tips To Care For Type 4C Hair
As one of the most delicate hair types, you need to care for 4C hair properly to avoid any unwanted breakage. We have partnered with Syteria, resident 4C Hair expert at 4C Chick, to give us her top 10 tips to care and maintain 4C hair for the best and healthiest results.
Wash 4C hair with

sulfate free shampoo

. As this hair type needs a lot of moisture, cleansing with a sulfate free shampoo will help to remove build up, without stripping the hair of its natural oils. You should also try not to

wash your hair too often

as this too can have an impact on your hair's moisture levels. Using Curlsmith Detox kit is a great way to thoroughly

exfoliate your scalp

, while keeping your hair hydrated and healthy.





When washing your hair, wash it in sections. This will help to reduce knots and tangles which could ultimately help to

reduce hair breakage

. You want to preferably wash 4C hair in twists, as it is easier to clean the scalp and rinse the product out.





When twisting your hair, make sure to do it while it is underwater. This gives you better control.





D

etangle type 4C hair only when you have lots of slip from a product. You could use a washout conditioner like

Curlsmith Post-Biotic Calming Conditioner

, deep conditioner like the

Curlsmith Double Cream

or leave-in like the

Curlsmith Air Dry Cream

. Always take advantage of those products by using what works for your hair. Once you've detangled, twist it back up.




If you decide to detangle with a washout conditioner or deep conditioner, you want to rinse your hair the same way you would if you were washing it. Submerge your hair underwater and gently take down your twist and rinse. Twist your hair back up while it's underwater.



Remember you should always deep condition according to the directions. In 30 minutes, your hair has already reaped the benefits from the deep conditioner, no need to keep it in overnight. This is the best way to avoid

moisture overload

.





Hot water can aid in knots and tangles, which is not what you want for your beautiful 4C hair! For optimum results try using water around lukewarm temperature!




Low manipulation styles are best to preserve type 4C hair health. You can perform many styles like twist-outs and braid-outs. When rocking these hairstyles it's best to tuck away the ends of your hair, as well as preserving the twists overnight using the band method. Re-twisting or braiding your hair every night is too much manipulation and risks creating more

damage to your hair

than what you are trying to prevent.




Keeping your hair stretched will help you to retain length. Keeping your hair only in a shrunken afro increases the risk of single-strand knots and hair breakage. If you want to (no-heat) stretch your hair, it's best to braid it. Grab your favorite leave-in conditioner and braid your hair up in plaits. I use hair-ties to keep my roots nice and straight. The more braids, the more stretch your hair will have. Once your hair has dried completely, you will have a nice non-heat blow-out, ready for whatever style and styling products you desire.



When it comes to moisture make sure you use rich products that have long-lasting moisture-retention properties. If your hair stays moisturized for 4-5 days without having to reapply more product, that's great! If the product moisture only lasts 1-2 days, this means you have to reapply products during the week, and that can cause

product build-up

. Curlsmith Curl Conditioning Oil-in-Cream is a great option for rich, long-lasting moisture.

How to choose the right products for type 4C hair
Type 4C hair needs a special routine, but that doesn't mean that everyone with 4C hair needs to use the same products. Your hair porosity, density and thickness will influence which products you should pick, regardless of your curl type. If you are not sure what you need, take our

curl quiz

to discover more. Our range of products has something to enhance everyone's curls, whether you're looking for moisturizing
hair products
,
scalp c

are
, a
strength formula
, a
color range
and a fragrance free
shine-enhancing line
.