How to Exfoliate Your Scalp at Home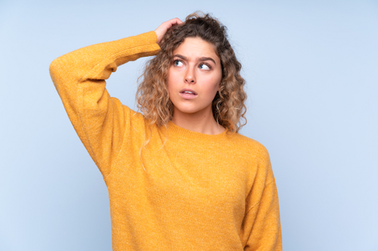 Exfoliating your scalp can help to achieve the healthiest hair possible, as healthy hair begins at your hair follicles. That starts once you discover tips on how to exfoliate your scalp properly, because this area needs as much attention as the rest of your hair care routine. We are here to bring you the benefits of knowing how to exfoliate your scalp using a scrubbing product and exfoliating glove or brush, to unlock the gorgeous results you've always wanted for your hair.
Table of Contents:
What is Scalp Exfoliation?
Before you learn how to exfoliate your scalp, you need to know what scalp exfoliation is. Scalp exfoliation is the process of removing dead skin cells, debris or product build up from the scalp. 
Maintaining a healthy scalp is one of the most important elements to achieving luscious curls, yet many can forget to include in their curly hair routine. Scalp care, and knowing how to exfoliate your scalp, is fundamental to producing stronger, healthy hair. Without it, your curly hair, coily hair, or wavy hair may appear dull and lifeless.
How to Exfoliate Your Scalp in 5 Steps
Exfoliating your scalp is super easy to introduce into your home haircare routine. There are many ways to exfoliate your scalp, whether you choose to use a scalp massager, scrub glove or brush, or simply your fingers. 
We will take you through the steps of how to exfoliate your scalp with the best curly hair products, so you can achieve beautiful hair.
Usually performed on wet hair, use our

Super Slip Pre-Biotic Primer

first to prepare the hair before applying a scrub. This helps to strengthen the scalp's protective barrier, since the product contains balanced pre-biotics, which feed the 'good bacteria' for the skin.

Apply your chosen product to your root. We recommend a scrub like our

Wash & Scrub Pro-Biotic

, which is extra-fine so it won't risk irritating your scalp and it won't get stuck in your hair when you rinse it out. It is also a

clarifying shampoo

which is supercharged with live probiotics that help to form the scalp's protective barrier.

Use small circular motions to gently work the product in, while avoiding the rest of the hair shaft. This motion will help to lift the dead skin cells and build up away from the scalp.

Rinse your hair with lukewarm water.
Apply a conditioner, such as our Post-Biotic Calming Conditioner to help lock in moisture and rebalance the scalp pH. This product is super charged with hyaluronic acid, which is known as the ultimate hydrating ingredient.
​​Top tip for how to exfoliate your scalp: If you are not using a glove or brush, try and avoid using your finger nails when working the product in. The harsh point of your nails may scratch the scalp's surface, which could cause sensitivity.
How to Know If Your Scalp Needs Exfoliating?
Your scalp might not need exfoliating all the time, and you should only exfoliate as regularly as your hair needs it. You may need to exfoliate your scalp if:
You regularly use lots of product

in your tresses - these can build up over time and need a bit of help to be removed from your head. 

You are prone to a dry, flaky scalp - Those who are more likely to experience a flaky scalp may wish to exfoliate more regularly to keep this flaking at bay.
5 Benefits of Why You Should Exfoliate Your Scalp
Learning how to exfoliate your scalp has so many benefits that many don't even realize. When applying various curly hair products throughout the week, we may not notice our favorite products have stopped performing as well as they used to. Using products, such as our scalp treatments when exfoliating, could help to combat this. 
Below we demonstrate five benefits as to why you should learn how to exfoliate your scalp:
1. Removes Scalp Build Up
Over the week, your hair could experience so many different products that overtime start to build up and block the hair follicles. This could lead to an itchy scalp, so learning how to exfoliate your scalp is essential. Removing this build up from the scalp is important to achieving a healthy scalp and hair. Not only this, but it could help to actually prevent build up happening since you are clearing the scalp of dead skin and debris.
2. Improves Your Hair's Appearance
Once you understand how to exfoliate your scalp, and do it regularly enough, the environment for your hair follicles is optimized. What this means is that over time you could start to see your hair appearing naturally thicker or achieve shinier hair, since there is nothing blocking them at the root.
3. Encourages Hair Growth
When you exfoliate your scalp, you are stimulating the skin in circular motions. This action removes the dead skin cells and allows for new ones to be produced, which is one of the elements that encourages healthy hair growth.

4. Prevents A Dry Scalp
Flakes of skin on your scalp do not always equate to dandruff, it could simply mean your scalp is dry or irritated. If you know how to exfoliate your scalp, you can help your natural oils to nourish the skin and help to keep your hair healthy. This in turn could aid in preventing the appearance of dry hair.
5. Keeps Oil Under Control
Your hair's natural oils are also known as sebum. Some people may have an imbalance of this which causes them to have oily hair, or they may use scalp oils. By exfoliating regularly, you could help to prevent sebum build up and keep your natural oils at a healthy level.
When you understand how to exfoliate your scalp, it can reduce both natural and product build up happening. This can result in your hair thriving and looking its best.
How Often Should You Exfoliate Your Scalp?
As well as providing tips for how to exfoliate your scalp, it's also important to understand how often you should perform it. 
In general, it is best to

exfoliate your scalp every four to five washes

. Unless you have an excessive amount of product built up, then more often is best.
Not enough - If you neglect your scalp by not exfoliating, it may lead to dull hair, an itchy scalp, and blocked follicles. You can combat this by using scalp-friendly products in your everyday routine. Curlsmith's scalp care products are formulated with scalp-caring ingredients to regulate your microbiome and support a healthy hair follicle environment.
Too often - Exfoliating too often could lead to stripping the hair of its natural oils, which can be resolved by doing deep conditioning hair treatments.
If you are unsure as to how often to wash your hair, discover the optimal routine for what your hair type needs with our guide. Ultimately, when thinking how often to exfoliate your scalp, it varies from person to person. Once you understand how often to exfoliate your own scalp, you could produce healthy, naturally thicker and shinier hair.
Achieve Beautiful Hair with Curlsmith
At Curlsmith, we use curl-loving ingredients in all of our curly, wavy hair products, and coily hair products. Our products are all free from silicones, sulfates, parabens, are cruelty-free, and all vegan hair products, to help your curls feel and look their best.