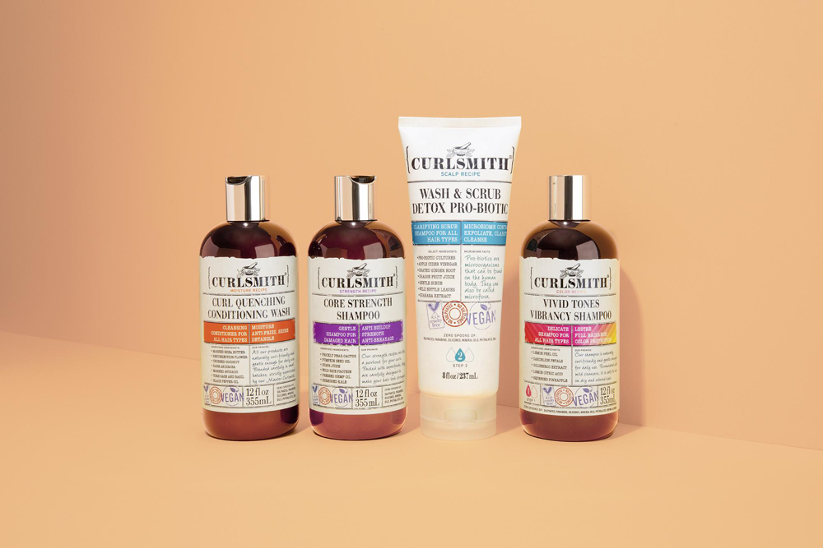 There are thousands of hair products on the market, all with various claims, best for heat protection, best conditioner to strengthen, etc, but what are the best curly hair products? When you have curly hair, the buying process is slightly different; the first step is the most important. It's crucial to choose a brand that formulates its products and deeply understands curly hair's needs.
Regardless of the claims, it still doesn't help when making that purchase as there is so much choice.
Table of contents:
Curlsmith is a pioneer in the field for providing a wide range of products that do not contain sulfates, mineral oil, phthalates, parabens, or drying alcohol. The food-inspired formulations enrich your curls with what they need to flourish. With five amazing recipe ranges, you're sure to find the products to suit your individual needs.
Now you know that Curlsmith is the curl connoisseur, let's move on to the fun part, diving deeper into selecting products from our range and outlining which are best for achieving your curly hair goals.
How to identify the best products
Identifying products to suit your particular needs can be confusing if you are new to the brand; after all, there are five ranges to choose from. To assist with this process, we have a curl quiz that asks several questions to determine your hair type, porosity, texture, and curl goals. Upon completion, a personalized recommendation of products is provided to support your wash day routine. This includes products to shampoo, condition, style, and moisturize curly hair, as well as any additional treat products you may not need to use every wash day.
5 Best Shampoos for Curls
When choosing the best shampoo for curly hair, one of the most important things to remember is that sulfate-free shampoo is key to ensuring that the hair is not stripped from its natural oils. Curlsmith has formulated all shampoos with mild cleansing agents, known as surfactants, to ensure that your curls retain the right balance of natural oils throughout the cleansing process. With a range of 5 cleansers, let's take a closer look at the benefits to support your curly needs.
Best for Frequent Cleanses
Our Curl Quenching Conditioning co-wash provides the gentlest level of cleansing in the range as it is a 2 in 1, which features a conditioning base with a small amount of cleansing agent. It's ideal for those that want to cleanse regularly and suitable for all curl types but more beneficial for those with thick or coarse hair. Key ingredients include the Resurrection flower, a desert plant that survives up to three years without water and is therefore known for its moisturizing properties. This product is sure to add moisture and softness to your curls.
Best for Colored Hair
Vivid Tone's Vibrancy shampoo is designed to remove the particles that dull the hair and restore vibrancy and shine; great for enhancing natural or artificial color. This low poo shampoo offers a gentle cleanse and is suitable for regular use.
Best for Damaged Hair
Our Core Strength Shampoo is enriched with a powerful patent active that focuses on repairing the hair from the inside out. Suitable for all curl types and textures, especially those with damaged curls.
Best for Scalp Sensitivities
Our fragrance-free shampoo has been dermatologically tested and is the best shampoo for those with scalp and fragrance sensitivities. It also features a blend of ingredients such as lemon peel and jasmine hops that contribute to adding shine to the hair.
Best for Clarifying
The best clarifying shampoo for curly hair is the Wash and Scrub Detox Wash. Specifically formulated to ensure a deep cleanse without stripping the hair to the point that it feels like straw which can be a typical issue in some clarifying shampoos. The microbeads originate from volcanic rock and work towards removing scalp impurities. Designed to use every 4-5 cleanses.
6 Best Conditioners
Conditioner is applied to the hair after the shampoo has cleansed your hair. The role of the conditioner is to lower the cuticle, provide a slip to assist with detangling, and add moisture to the hair. There are six conditioners in the range. Three everyday conditioners and two hair masks designed for weekly use. Let us take a closer look at the benefits of each, starting from our lightest to richest.
Best for Soothing the Scalp
Calming conditioner is the best conditioner for curly hair to help soothe the scalp and strengthen the protective layer, the microbiome, while adding moisture. Features staple ingredients to soothe the scalp, such as peppermint and tea tree. The condition also contains Hyaluronic acid, known for its moisturizing properties.
Best for Colored Hair
The best conditioner to boost vibrancy and shine. This rich but lightweight conditioner provides great slip for detangling and makes the hair smooth and supple. Suitable for all curls types and textures.
Best for Scalp Sensitivities
The best conditioner for those with scalp and fragrance sensitivities. Featuring ingredients such as Murumuru butter to hydrate, increase moisture retention, seal cuticles and soften the hair. This conditioner is lightweight and adds incredible shine to your tresses.
Best for Damaged Hair
The best conditioner for those with damaged hair or who need a protein boost. This multi-purpose 3-in-1 condition functions as a rinse-out, mask treatment, and leave-in. Enriched with protein at a low dosage, you don't need to worry about protein overload. The powerful patent active targets all three hair bonds and strengthens from the inside out.
Best for Fine to Medium Textured
Hydro Creme Soothing Mask is the best lightweight treatment suitable for all curly hair and fine to medium textures. The creamy texture melts onto the strands and targets the dry areas to hydrate and moisturize. Once you have applied and gently detangled, leave to penetrate for 10-15 mins for a quick moisture boost. For ultimate hydration and moisture, allow the mask to penetrate the strands for up to 30 minutes, then rinse.
Best For Medium to Coarse Dehydrated Hair
The best conditioning hair mask for ultimate moisture. Suitable for all curl types, especially beneficial for medium to coarse textures. This thick creamy textured hair mask is designed for weekly use. Featuring key ingredients such as Andiroba, an indigenous plant of the Amazon rainforest known for its nourishing properties. Once you have applied the mask and carefully detangled your strands, leave for 10-15 minutes for a moisture boost or for ultimate moisture, 30 minutes, and then rinse.
5 Best Leave-In Conditioners
Leave-in conditioners are essential to a curly hair routine. As we know, the natural oil produced by the scalp struggles to travel down the hair shaft, resulting in naturally dry curls. That's where your leave-in conditioner comes in!
Apply to the mid-lengths and ends to hydrate and add moisture until your next wash day. They also assist with detangling and priming the hair in preparation for the styler. Let's look at the range from the lightest to the richest.
Best For Lightweight Moisture and Refreshing
Moisture Memory Reactivator is the best leave-in conditioner for curly hair that requires lightweight moisture. This multi-purpose product can also refresh your curl between wash days. Featuring key ingredients such as Avocado and Shea butter, known for their moisturizing benefits. Suitable for all types and textures, even those with fine hair.
Weightless Air Dry Cream
Weightless Air Dry Cream is the best leave-in conditioner for curly hair that requires enhancement, lightweight moisture, and shine. Featuring ingredients such as Hyaluronic acid, known for its moisturizing properties.
Shine Cream
Shine Cream is from the fragrance-free range, so suitable for most with scalp sensitivities. The lightweight leave-in conditioner adds moisture, definition, and shine.
Multi-Tasking Conditioner
Multi-tasking Conditioner is the best leave-in for damaged curly hair or those requiring a protein boost. This protein-enriched leave-in strengthens, moisturizes, and primes the hair. Great for regular use without the risk of protein overload.
Curl Conditioning Oil in Cream
Curl Conditioning Oil In Cream is the best leave-in conditioner for medium to coarse, curly hair. This rich, creamy texture melts onto the strands providing the moisture needed for very thirsty hair. It also primes the hair before the styler and is excellent for protective styles.
Best Hair Dryer & Diffuser
There is only one answer when considering the best hair dryer for curly hair; the Diffrizzion XXL Hair Dryer. Specifically manufactured with curly hair at the forefront, the dryer features an 8-inch diffuser, the largest diffuser you will find on the market. The diffuser features deep prongs to allow quick drying, regardless of length or thickness. The far infra heat penetrates the hair to reduce drying time and damage, and its unique 360 airflow ensures even heating throughout the hair. In addition, there is an amazing hand-free feature, so gone are the days of aching arms when drying your hair. For those that worry about their tresses and opt for air drying, rest assured that the condition of your curls was at the forefront when creating our Difrizzion XXL Hair Dryer.
Best Hair Gels
Within the Curlsmith collection are styling gels with different benefits and levels of hold (indicated on the packaging), one the lightest hold and ten the strongest. Let's dive into the difference and advantages of our hair gels.
Best For Damaged Curls
Our Aqua Shape Up is the best gel for curly hair if you require protein, flexible definition, and volume. This lightweight gel (level 5) is water-based, allowing easy distribution. It's enriched with protein at a low dosage, so there is no need to worry about protein overload. Suitable for all curl types
Best for Scalp Sensitivities
The best gel for those that have fragrance and scalp sensitivities. This lightweight gel with a runny consistency, allowing it to glide through the hair and coat the strands evenly. It offers a flexible hold (level 6) and creates a light cast while defining your curls.
Best for Weightless Definition and Volume
Hydro Flexi Jelly is the best gel for those that want a medium hold (level7) and definition without compromising on volume. The liquid texture glides easily throughout the strands to avoid any build-up. When drying, the gel creates a light cast, so once 100% dry, scrunch the crunch to reveal bouncy, defined curls.
Best for Moisture and Hold
Curl Defining Souffle is the best gel for curly hair that provides both moisture and hold, featuring the benefits of a cream and gel in one. The stronghold gel (level 8) keeps your curls defined, soft and bouncy. This all-rounder is suitable for all curl types and textures.
Best for Protection Against Humidity
Shine Gel is the best for curly hair that requires a stronghold; level 9. This fragrance-free gel has a thick consistency that provides definition, frizz control, and protection against humidity to provide long-lasting definition. It features key ingredients such as a blend of hops, jasmine, and lemon peel to boost shine. This gel creates a strong cast while drying, so always remember once the hair is 100% dry, scrunch the crunch for soft, bouncy curls.
Best for Long Lasting Results
In Shower Style Fixer is the strongest gel in the Curlsmith range, so great for those that want ultimate definition (level 10). Like the Shine gel, it offers protection against frizz and humidity and offers long lasting results.
All our stylers mentioned above form a gel cast around the hair; this allows your curls to dry in a perfect position. Once 100% dry, remember to scrunch the crunch with one of our hair oils to reveal your beautifully defined curls.
Best Frizz Prevention
Frizz is one of those things that you can have a love-hate relationship with; just enough frizz can add to the volume and make your curls look full. However, too much frizz can transform you into Monica from Friends; yes, that's right, we all know the episode we're referring to. Fortunately, Curlsmith has the best curly hair products to prevent frizz; Shine Gel and In Shower Fixer. Both products are included within our frizz control range and feature Polyquaternium-69, a key ingredient that forms a film around the hair strands and offers definition and body while combating humidity.
Best Heat Protection
It is general knowledge that heat isn't great for your hair, especially those with curly hair. We have all heard horror stories of extreme heat damage from as little as one session of intense thermal styling. Although Curlsmith promotes embracing natural curls, it's likely that some of our curl friends are using heated tools, whether in the form of straighteners on occasion, a curling tong to define a few strays or a diffuser; heat protection is a must! Fortunately, we've created the best heat protection for curly hair: Miracle Shield. This amazing product not only protects against thermal heat but includes protection against natural aggressors such as:
UV Rays

Color Fading

Chlorine

Sea Salt
So as you can see, even for those that exclusively air dry, Miracle Shield is a staple product needed as part of your hair care routine.
Why Curlsmith Can Be Your Best Curly Brand
You now have a deeper understanding of some of the Curlsmith products. At Curlsmith, we strive to create curly girl-friendly products that are also cruelty-free and vegan-friendly. If you would like further assistance with choosing products, head to our curl quiz, answer a few simple questions, and be provided with your recommendations.