Curlsmith Shines Backstage at London Fashion Week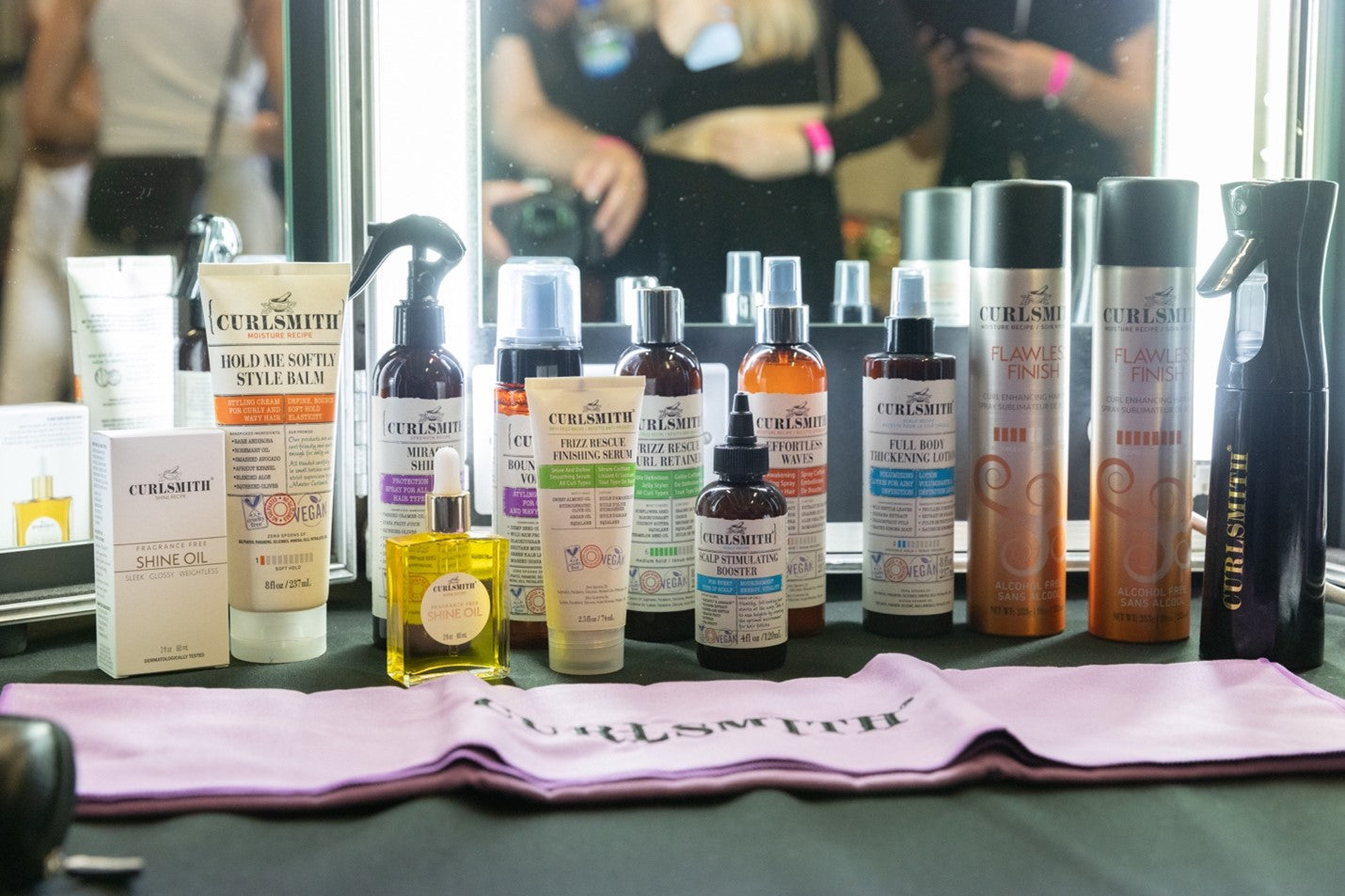 Curlsmith took London Fashion Week by storm and joined forces with non-profit talent platform, Fashion East. The dynamic partnership marked Curlsmith's debut on the fashion runway, where we supported three emerging designers in presenting their SS24 collections. Lead Hair Stylist, Mark Hampton, masterfully crafted looks that celebrated natural textures, high shine finishes, and braids. Discover the Curlsmith products that brought the editorial hair styles to life on the runway for designers Standing Ground, Johanna Parv, and Olly Shinder.
Standing Ground SS24 / Photography by James Basire for Curlsmith
Standing Ground: Futuristic Shine Meets Natural Beauty
For Standing Ground, Mark Hampton envisioned a super high-shine, flat, and futuristic look while maintaining a touch of natural beauty. The key to this style was the application of Curlsmith's Fragrance Free Shine Gel.

Mark Hampton backstage using Curlsmith at LFW / Photography by James Basire for Curlsmith
Working in horizontal sections, Mark started at the nape of the neck and combed through the roots, creating a sleek canvas. The hair was then set with the Defrizzon Dryer & XXL Diffuser, setting the stage for a radiant finish. Just before hitting the catwalk, liberal amounts of Fragrance Free Shine Oil were applied, followed by the Frizz Rescue Finishing Serum to ensure a silky smooth end result.
Standing Ground SS24 / Photography by James Basire for Curlsmith
Johanna Parv: Movement and Fluidity in Harmony
For Johanna Parv's collection, movement and fluidity were paramount. Mark Hampton used the Fragrance Free Shine Gel to amplify natural texture. 
Applied to dry hair in horizontal sections, this gel provided the perfect foundation for the ponytail. After securing the ponytail, more gel was added along with the Fragrance Free Shine Oil, creating a beautifully orchestrated bun with flowing ends, mirroring the fluidity of Johanna's designs.
Johanna Parv SS24 / Photography by James Basire for Curlsmith
Olly Shinder: Real, Lived-In Beauty
Olly Shinder's collection exuded life and reality, each model treated individually to capture the essence of post-clubbing hair. Mark Hampton customized each look, embracing the uniqueness of each model's hair type. The Miracle Shield was sprayed throughout, followed by the Full Body Thickening Lotion for volume and definition. The Fragrance Free Shine Oil and Shine Gel were expertly mixed to achieve a sweaty, lived-in finish, giving the models an authentic after-hours allure. For those with braids, the Bouncy Strength Volume Foam was applied for soft hold and brilliant shine.
Olly Shinder SS24 / Photography by James Basire for Curlsmith
Get the catwalk look with the below Curlsmith runway staples:
Standing Ground SS24 / Photography by James Basire for Curlsmith
The Curlsmith x Fashion East collaboration at London Fashion Week showcased not only the prowess of emerging designers but also the transformative power of Curlsmith products. With their commitment to celebrating diverse curl types and providing top-tier care, Curlsmith continues to empower individuals to embrace their natural texture.