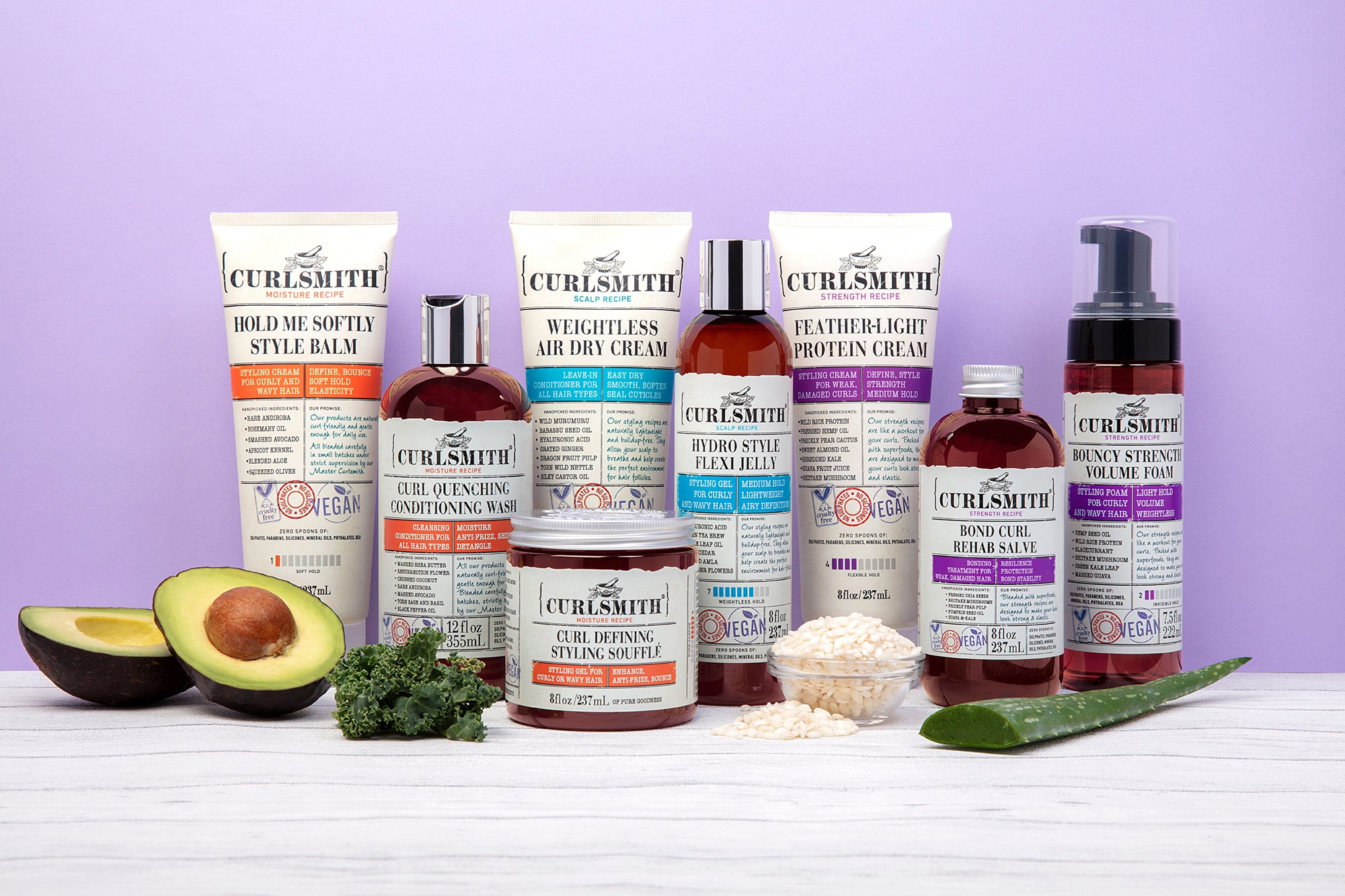 Quotes and Features From Our Editor Friends
"Beauty Bible is delighted to welcome a brand to our Awards which recognises and addresses the challenges of having curly hair, with products that are a pleasure to use and truly work." – Beauty Bible Awards 2022
"Beauty Bible is thrilled to see the inclusive approach of Curlsmith, using real women on the website, ads and on social media, rather than flawless models, and we're really thrilled to feature Curlsmith Curl Defining Soufflé to open up a new category in the Beauty Bible Awards, for Styling Products for Curly Hair." – Beauty Bible Awards 2022
"Choosing your styling products wisely is another important step that is often overlooked, and something I neglected to take into account the first few months that I noticed my recent hair shedding. But lately I've turned to Curlsmith, which has a line of hair-care products formulated with nutrients like keratin, collagen, biotin and natural actives to make hair grow longer, fuller, and healthier." – Vogue
"This winter, I experienced some sort of hair crisis; none of my usual leave-in curl-styling products were working — my hair was so flat and lifeless as to look straight on the worst days. I was so dejected by the thought of my curls vanishing, until I happened upon Curlsmith. I have been using an array of the brand's products and with regular use, my curls have gone back to their optimal bouncy and defined nature." - Instyle
"If TikTok raves over a haircare brand, you best believe it's about to pop off. Case in point: Curlsmith. With 7.5M TikTok views (and counting), the brand's quickly catching up to every curl in the world (hi, RiRi) with vegan formulas priced from $25, that have been tried, tested and loved by the curl community and now HairTok!" - Huda Beauty's Blog
Bond Curl Rehab Salve
Bond Curl Rehab Salve is an intense protein-enriched pre-poo treatment for damaged hair. It features a unique triple active complex bond that targets all three hair bonds that make up the hair structure and strengthens and repairs from the inside out. Suitable for all hair types.
As featured in the Vogue, New York Post, Allure, Well + Good, The Sun USA, POPSUGAR and Cosmopolitan.
Recommended by Dr Engelman for Vogue's 'How to strengthen hair and promote hair growth"
For a pre-shower treatment, Engelman loves Curlsmith's Bond Curl Rehab Salve, which is "really effective for repairing damage and strengthening hair by adding protein and moisture." – Vogue
"If you love (or have always wanted) the Olaplex No. 3 Hair Perfector but don't have $28 to spend on it, the expert recommends getting Curlsmith Strength Recipe's Bond Curl Rehab Salve." – The Sun USA
Curl Defining Styling Souffle
Curl Defining Styling Souffle offers both moisture and a strong level of hold, resulting in bouncy, shiny, defined curls. Great if you want the benefits of styling cream and gel in one.
Winner

of Beauty Bible Awards 2022: Best Curl Definer (Gold Award)

Winner

of Women & Home Hair Awards Highly Commended 2022: Best Curl Definer
As featured in POPSUGAR, Allure, PureWow, Huda Beauty Blog, Bustle and Instyle.
"Another must-have is the Curl Defining Styling Soufflé. When you work the soufflé into soaking wet hair, it traps moisture, so your ringlets stay bouncy for days. The gel is formulated with Irish moss, which adds definition to your curl pattern, and babassu oil and flax seed extract to keep things nourished and healthy for #GoodHairDays." - Huda Beauty Blog
"This styling gel has a wonderful consistency that's easy to work with and effortlessly absorbs into the hair without any sticky residue. It's perfect for scrunching curls and slicking back your edges too" – Bustle
"If you have natural curls, enhance your texture with a defining product, like the Curlsmith Curl Defining Styling Souffle" – InStyle
"Testers were impressed with the how easy this innovative formula was to use, and how quickly it toned down frizz and delivered bouncy, natural-looking curls."- Beauty Bible Awards
Other Beauty Bible Tester Comments:
Here's a taster of some of the feedback from the 10-strong tester panel for this Beauty Bible category, who put the product through its paces… 'I am deffo buying this when it's finished. I had so many compliments after using this! It toned down frizz, so you have pure curls, no frizz; a little goes a long way and I feel like the pot could last about six months' • 'I really loved this product. Having followed the Curly Girl method for a couple of years, this got the results without the hours of hard work. My hair now combs through without tangling and pulling. I will be buying this again' • A very good product and easy to use, taming frizz and creating shape.'
Detox Kit
The Detox Kit provides everything needed for a deep cleanse while leaving the hair soft and moistured. The Super Slip Primer assists with detangling and protects the hair from being stripped of all the natural oils during cleansing. The Wash and Scrub Detox offers a deep cleanse with micro-fine exfoliating particles to remove any dead skin. The Calming Conditioner helps to soothe the scalp, rebalance the ph, and moistures, especially great for those with an itchy, flaky scalp.
Winner of Beauty Bible Awards 2022: Best Scalp Treatment (Silver Award)
As featured in Real Simple, The Beauty Bible, TZR, Yahoo and MSN.
Recommended by Martha Steward Living as one of 11 of the best Dandruff Shampoos according to dermatologists
"Curlsmith's Detox Kit is fantastic for addressing dandruff," - Dr. Engelman, Martha Stewart Living Magazine
"Curlsmith's Detox Kit is fantastic for addressing dandruff. It is a three-step system that consists of: a prebiotic primer which coats the hair with a protective shield, a probiotic detox which uses micro-fine exfoliating particles to deeply cleanse the scalp of dirt and buildup, and a calming post-biotic conditioner which soothes irritation." - Dr. Engelman, TZR Magazine
"This three-step kit impressed testers as suitable for any hair thickness, who like the idea that it can be used as a four- to five-wash 'blitz', to occasionally detox scalp." – Beauty Bible Awards
Other Beauty Bible Tester Comments:
Our testers' raves included… 'Am totally in love! My head felt soooo light. Soft and silky. Hair felt beautiful. No flaking, in fact my scalp looked moisturised. Hair feels stronger too and ever so light. Plus my husband loves the smell and kept complimenting how my hair looked; he thought I had been to a salon to get my hair done' • 'The scalp treatment was efficient and made my hair feel very soft and when my scalp was flaky – I have an intermittent problem - the treatment did a very good but gentle job of clearing the problem. Great for a pampering session and giving your hair a little make-over' • 'My head felt like it lost weight when I first used it. I have been colouring, bleaching, perming and all sorts from the age of 15 and am now 42, so some sort of magic happened on first application! Conditioner is also cooling to the head and completes the whole detox. My hair is cleaner for longer now. No flakes or oiliness to be seen. I love the way my hair looks and feels since using this!'
"For natural curls, Dr. Engelman recommends the Curlsmith Detox Kit which contains a set of three products that will exfoliate and balance the scalp while also maintaining hair's natural moisture levels" – Real Simple
Temporary Hair Color
Our Temporary Hair Color is a great alternative to not committing to a permanent color. The vibrant pigment coats the hair strands, making the color pop no matter your natural hair color, even dark black hair!
As featured in Vogue and Niche Magazine.
"Curlsmith's temporary Hair Makeup Styling Gels will help you achieve this season's most sensational Halloween looks! Whether your hair is loosely wavy, tightly coiled or straight, this hair gel works perfectly for all types"- Niche Magazine
Moisture Memory Re-activator
Moisture Memory Reactivator is our super light leave-in moisturizer, great for detangling and priming the hair in preparation for the styler. Also perfect for refreshing your curls in between wash days; it tames frizz, moisturizes, and revives curls. Suitable for all hair types.
As featured in Cosmopolitan, Prestige Online, Sunday Times, USA Today.
Recommended in Prestige as one of 20 of the best products for curly hair
"Like every other part of your body, your hair deserves care and attention! Especially, if you have untamed curls. Try applying the Moisture Memory Reactivator by Curlsmith. It's a leave-in conditioner infused with extracts from exotic plants like Andiroba from the Amazon and Rose of Jericho which are known for their nutritional properties. Rich in antioxidants, this product is specifically designed to treat curly and wavy hair and make hair soft. " – Prestige Online
Recommended in Cosmopolitan Magazine as one of 23 Best Curly Hair Products
"If your second- or third-day curls are usually relegated to a bun, twist, or braid because they're so dry and undefined, may I introduce you to your new BFF? This refreshing spray is filled with water and oils (olive! coconut! avocado!) to rehydrate and re-clump curls on contact, while adding a bit of definition and shine as soon as you spritz it on." – Cosmopolitan
Hydro Creme Soothing Mask
Hyrdo Creme Soothing Mask conditioning treatment provides moisture to the hair and scalp without weighing it down. The treatment distributes easily down the strands and offers great slip to assist with detangling. Suitable for fine to medium hair.
As featured in Vogue and New Beauty Magazine.
Recommended by New Beauty as one of The Best Hyaluronic Acid Products to Revive Damaged Hair
"Harnessing the power of HA as one of its main ingredients, Curlsmith Hydro Creme Soothing Mask ($30) creates an ideally nourished environment to promote beautiful, healthy, bouncy curls without the threat of frizz." – New Beauty
Stimulating Booster
Scalp Stimulating Booster is a morning serum that stimulates the hair follicle and promotes healthy, fuller-looking hair. The serum is supercharged with follicle-stimulating actives to energize the scalp and improve scalp health and comfort.
As featured in Vogue, New York Times and Hello! Magazine
Featured in Hello! Magazine article for the Best products for thinning hair: Hair growth shampoo, supplements & Serums
"The Scalp Stimulating Booster says everything we want from a hair product for those battling with thinning hair. This creation is free from any nasties, but also contains "two clinically-proven hair stimulating actives" in the form of Baicapil and Anagain to promote healthy hair growth." – Hello! Magazine
Shine Oil
Shine Oil is our lightweight oil that coats the hair to lock in moisture and add shine. The fragrance-free oil is dermatologically tested, so suitable for most with scalp and fragrance sensitivities.
As featured in Harper's Bazaar, Allure, Huda Beauty Blog
"You get loads of glossiness without your texture being weighed down." - Allure
"It's no secret that curls need moisture, and that's what the Shine Oil delivers. Plant silk, watermelon seed oil, and sea buckthorn oil form a SUPER nutritious blend while murumuru butter and babassu oil work overtime to add shine and seal in every drop of hydration." - Huda Beauty Blog
Shine Gel
Shine Gel is our strong hold gel that locks in moisture and offers long-lasting defined curls. The gel protects against humidity, controls frizz, and adds shine.
As featured in Refinary29 and POPSUGAR
Curl Quenching Conditioning Wash
Curl Quenching Conditioning Wash is our 2-in-1 shampoo and conditioner cleanser, also known as a co-wash. Suitable for gently cleansing the hair without stripping all of the natural oils.
As featured in Men's Journal, The Sun, The Telegraph, Grazia & Huda Beauty Blog.
"The naturally-derived Curl Quenching Conditioning Wash cuts wash days in half with a two-in-one formula that cleanses and conditions. Nourishing avocado, coconut, and sunflower oils smooth for silky soft vibes as shea moisture and Resurrection flower keep water locked in." - Huda Beauty Blog
"Recommended as one of the 'Best Shampoos for Black Men"
"You may never return to regular shampoo after indulging in this." - Men's Journal
Featured in Grazia Daily as one of "30 of the best curly hair products whatever your curl type"
"If you don't have time for a 3-step wash day routine, this shampoo-meets-conditioner is a 2-in-1 saving you time in the shower. As it conditions the hair while washing, hair is softened, moisturized and easier to detangle. Plus, it's gentle enough for everyday use." – Grazia Daily
Double Cream Deep Quencher
Double Cream Quencher is a deep conditioning treatment that moisturizes and nourishes dry hair. The thick, buttery texture melts onto the hair strands to assist with detangling and smoothing the cuticle. Suitable for those with medium to thick hair.
As featured in Cosmopolitan, Byrdie, Marie Claire
"This clean and vegan formula works wonders for dry, thick hair." – Marie Claire
Recommended by Byrdie as the 'Best Protein-Free Treatment'
"When your dry curly hair needs an intense pick-me-up, reach for this ultra-rich deep conditioner." – Byrdie
Weightless Air Dry Cream
Weightless Airdy Cream is our lightweight leave-in conditioner that enhances the curl and adds moisture without weighing it down. The silky texture allows the conditioner to glide down the hair easily and primes ready for the styling product
As featured in Vogue, Byrdie, Allure, PureWow, Instyle, Cosmopolitan
Recommended by InStyle's Beauty Editor Tamim Alnuweiri
"I work the Weightless Air Dry Cream through my wet hair right after I get out of the shower, and half an hour later, the shea butter and hyaluronic acid formula has my hair looking like the best version of itself. The hundreds of five-star ratings and reviews from other shoppers prove I'm not alone as many highlight the product's incredibly light, practically weightless texture." - InStyle
Recommended by Celebrity Hairstylist Jennie Roberts as part of Allure's "21 types of bangs to consider if you're ready to take the plunge"
"To style, Roberts recommends applying the Curlsmith Weightless Air Dry Cream to achieve the undone texture that these bangs require. And if you really want to take this type of bang to the next level, Roberts says a natural sun-kissed highlight "works wonders" to make this fringe look effortless and cool." – Allure
"Whether you're doing a wash and set, braids or twist-outs, the styling product is a great addition before air-drying or diffusing your strands." - PureWow
Bouncy Strength Volume Mousse
Bouncy Strength Volume Mousse is a protein-enriched styler that provides light hold and volume from the roots while enhancing your hair's natural texture.
As featured in Allure, Womenswear Daily
Recommended by Celebrity Hairstylist Jennie Roberts as part of Allure's "21 types of bangs to consider if you're ready to take the plunge"
"There are a few ways to go about long bangs, which Billie Eilish is a fan of. The first is long blunt cut bangs, and Roberts says these look especially great against very long hair for a "disconnected, laid back look". Blow-dry with a pump or two of the Curlsmith Bouncy Strength Volume Foam to give this look a laid-back, gentle hold. Roberts says that long, layered fringe (like Eilish) is great for hair with a little texture and easy to grow out" - Allure
Miracle Shield
Miracle Shield is a protein-enriched mist that offers protection against the hair's harshest aggressors, such as heat, UV rays, chlorine, sea salt, and color fading. The mist can be applied on wet or dry hair and is suitable for all hair types.
As featured in Beauty News NYC, Huda Beauty Blog
"Heat, UV rays, seawater, and color fading, you've met your match! Introducing the Miracle Shield, a milky mist that protects your hair with a Vegan Thermal Shield (that acts like keratin) and an Abyssinian oil-based active for a shiny, silky finish." - Huda Beauty Blog
Metro Man: groomed to Perfection from Head to Toe
"The Curlsmith product line recently came across my grooming radar. I immediately wanted to try their Miracle Shield on my head full of salt-n-pepper locks. The outcome was better than expected with a lightweight spray that makes my curls and waves radiant in the sunshine."- Beauty News NYC
Defrizzion Dryer & XXL Diffuser
Difrizzion Hair Dryer and XXL Diffuser, explicitly designed to meet curly hair needs. The 8-inch diffuser allows great coverage, even heat distribution, and airflow to minimize frizz.
As featured in Vogue, Allure
Reccomended by Allure as one of '25 best frizzy hair products and styling treatments for your smoothest hair ever'
"If you've noticed your usual hair dryer is on the fritz, switch over to the frizz-targeting Curlsmith Defrizzion Dryer and XXL Diffuser. This blow-dryer is made to specifically minimize frizz for curly, wavy, and coily hair types with moisture-replenishing ionic technology. Its large diffuser head cups thick hair and gets close to the root to evenly distribute a delicate flow of low heat. In case your hands are full, the blow-dryer also comes with a hands-free stand to dry your hair without laying a single finger on the dryer." - Allure
"The new Curlsmith De-Frizzion Dryer is impressive on its own, but the real magic begins when you attach the XXL Diffuser that comes with it. It's designed to go extra-gentle on coils and waves, fully wrapping air around each curl to improve definition and reduce frizz. Roots dry more quickly, volume is boosted, and you'll find yourself never wanting to go back to smaller diffusers ever again." – Allure
Multi-Tasking Conditioner
Multitasking Conditioner is an amazing multi-tasking conditioner that functions as a leave-in, rinse-out, or treatment. Enriched with proteins at a low dosage to strengthen the hair and fortify the bonds. Suitable for all damaged curl types.
As featured in Cosmopolitan, Popsugar & Huda Beauty Blog
"We also love the protein-packed Multi-Tasking Conditioner for low porosity hair types or strands that struggle to absorb moisture. The lightweight blend of babassu, jojoba, and castor oils deliver hydration and pack restorative proteins for healthy, bouncy curls in seconds. Plus, it can be used as a rinse-out or a leave-in." - Huda Beauty Blog
Featured in Cosmopolitan's "13 Best Conditioners for Curly Hair, From 3a to 4c Curls"
"If your bathroom is overflowing with curly-hair products, it's time to transition to this three-in-one product (consider it the antithesis to a three-in-one body wash/shampoo/conditioner—*shudders*). This conditioner is technically a rinse-out conditioner, but thanks to its oil-based formula (see: castor oil, shea butter, and jojoba oil), it can also be used as a deep conditioner or as a leave-in conditioner. So even if you're not sure if your porosity or curl type can handle it as a leave-in, you'll still be safe to use it as a rinse-out formula. Win-win, tbh." – Cosmopolitan
Curl Conditioning Oil In Cream
Curl Conditioning Oil in Cream is our richest leave-in conditioner, perfect for adding moisture to thirsty hair. It promotes soft, smooth, shiny hair and is great for protective styles. Suitable for coarse, high, porosity, or dry hair.
"The Curl Conditioning Oil-In-Cream is a rich leave-in made with moisturizing heroes like shea butter, coconut, olive, and sunflower oils that are bursting with fats and omegas to strengthen and revitalize damaged hair strands. A little goes a long way, so add a dollop and you're good to go!"- Huda Beauty Blog