Is Hairspray Bad For Your Hair?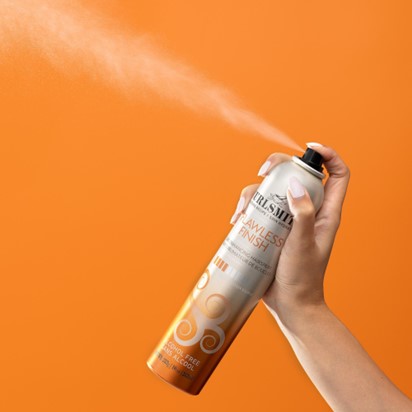 Hairspray is often touted as being "bad" or "drying" for curly hair, but has this product just been given a bad rep? Hairspray has been a staple in the haircare industry for decades with its versatility of use and ability to enhance most textures and styles. While it may have developed a reputation for creating hard, crunchy locks, hairspray has a plethora of benefits for the hair when used correctly. From taming unruly frizz to adding humidity resistance to holding the hair in place, hairspray can be useful for all hair types and curl patterns. If you are unsure whether hairspray deserves a place in your curly hair routine, read on to discover more about these products, and let us help you in your decision-making process.  
Can hairspray be bad for your hair?
How to use hairspray correctly
4 Steps to Remove Hairspray Build Up
What is hairspray?
 
Early hair-setting products date back as far as the late 1800s in the form of liquids such as Bandoline and early hair gels. These products were relied upon to "set" the hair in place to fit the latest fashions and styles. 
The development of aerosol cans by the US Army in the 1940s saw the introduction of products more reminiscent of our modern-day hairsprays. Polymers were being developed by the hair-care industry that, in conjunction with aerosol cans, revolutionized hairspray style products and their capabilities. 
Early hairsprays were named "spray nets", and introduced to the market by Helene Curtis, until the more generic term "hairspray" was coined by Curtis herself in the 1950s. These products were touted as a way for women to maintain their hairstyle throughout the day, no matter the activity! 
SOURCE: https://clickamericana.com/topics/beauty-fashion/1950s-hairspray-brands 
As gravity-defying hairstyles became more demanding throughout the 1960s, 70s, and 80s, hairsprays continued to evolve to provide the hold needed to maintain everything from spikes to mohawks to beehives! 
Now in the present day, hairsprays still dominate the market. While most brands still have a hairspray product on the market, many are unsuitable for curly hair, containing drying ingredients that leave curls looking dull and lacking lustre. This is where Curlsmith has stepped in, launching their Flawless Finish Hairsprays, two alcohol-free hairsprays with a choice of hold levels.  
Can hairspray be bad for your hair?
Hairspray has developed something of a questionable reputation in some circles but, when used correctly, can have many benefits for a variety of hair types and curl patterns. With the Flawless Finish hairsprays, styling that is hard or sticky no longer needs to be the norm. Let us walk you through the best hairsprays for holding your curls in place.
With an alcohol and silicone-free formulation, the Flawless Finish Hairsprays provide curl-friendly control and hold, without the drying ingredients. It is important, however, to ensure that you are washing and conditioning your hair effectively to avoid any build-up and remove any extra texture that the hairspray may add to your hair. 
Hairspray can be left in the hair from wash day to wash day, but you should absolutely ensure that you are sleep-protecting to minimize any tangles or knots that are created from tossing and turning in bed.
 
8 Benefits of using hairspray
Curlsmith's Flawless Finish Hairsprays is a unique product with several benefits for usage:  
Secure hold for styling:

Whether you are looking for extra hold for wash day curls or want to ensure that a sleek bun or bouffant stays in place, the Flawless Finish Hairspray is the answer.




Ongoing frizz control:

The Flawless Finish Hairsprays can provide ongoing

frizz control

to the hair, helping to tame and lay down flyaways, for a more controlled, frizz-free look.




Humidity protection:

Both hairsprays are able to provide considerable humidity protection, preventing moisture in the air from ruining your wash day or style.




Gives lightweight longevity:

Avoid any weigh down when using the Flawless Finish Hairsprays. These products provide longevity, without any of the weight you might expect from a hard-hold gel.




Adds shine to the hair:

The Flawless Finish Hairspray can

add shine to curly hair

, creating a more refined finish to your styling.




Non-drying:

Given that many curly heads already struggle with dryness, being alcohol-free, the Flawless Finish Hairsprays do not exacerbate this problem, instead nourishing the hair with ingredients such as Vitamin B5.




Adds volume:

Hairsprays are great to use as

volumizing hair products

. They are able to add volume to any area of the hair that is lacking and the best thing it, this volume doesn't deflate!




Avoids any stickiness or crunchiness:

Whilst traditional hairsprays can make the hair feel sticky, crunchy, or hard, the Flawless Finish Hairsprays maintain touchable hair. 
It is important, however, to remember that hairspray can cause build-up on the hair if not used correctly. Whilst avoidable, build-up can have a negative impact on the hair if allowed to happen, causing the hair to feel dry, look dull, and become weighed down. 
How to use hairspray correctly
 
Avoiding hairspray being bad for your hair is easy if you know how to use it correctly. The following tips can help you navigate how to use the Flawless Finish hairsprays successfully:  
In general usage:
Ensure you hold your Flawless Finish hairspray around 20cm away from the hair before spraying. This diffuses the product onto the hair instead of concentrating on one area.




 

Make sure to clean the hairsprays nozzle from time to time. The product should mist the hair, rather than spraying it. 




 

Don't overdo the amount of hairspray you use; it's fairly well known now that using a full can of hairspray to set your hair can be bad for your hair! Less is more with the Flawless Finish Hairspray to avoid build-up. 




 
As the Flawless Finish Hairsprays set your style in place, it is not advisable to brush through or overly manipulate your hair following styling to avoid breakage.




 

Protect your curls overnight

to ensure that knots and tangles from movement in your sleep are minimized to reduce breakage.




 
To encourage volume:
To encourage root volume in looser curls and waves, mist a small amount of the Flawless Finish hairspray onto your fingers or a pick, then fluff out your root area. 




 

To encourage overall volume in all curl types, hang your head upside down and shake whilst misting your curls with the Flawless Finish hairspray.  
To manage frizz and flyaways:
To get rid of frizzy hair

on wash day, or a refresh, lightly mist the hair in the Flawless Finish hairspray, then finger coil the areas in need of targeting to tuck that frizz back in. 




 

When styling an updo, mist the Flawless Finish hairspray onto the palm of your hand or a brush, and smooth your palm or the brush over the affected areas of your hair. 
Top tips for wavy hair
Try replacing your gel with the Flawless Finish Strong hold hairspray for strong hold that won't weigh your tresses down! Use wavy hair products when soaking wet with a leave-in and foam. Once dry, mist your hair with the Flawless Finish Strong hold hairspray, scrunching as you go. Diffuse your wavy hair for extra oomph and enjoy. 
Using Hairspray on Curly Hair
Try using the Flawless Finish Strong or Flexible hold hairsprays as your final curly hair product to lock your style in place. On soaking wet hair, apply your leave-in conditioner and gel, before diffusing your curly hair. Mist the Flawless Finish hairspray over the hair, then mist a pick and use it to encourage root volume. 
Using Hairspray on Coily Hair
Try using the Flawless Finish Flexible hold hairspray as your final coily hair product to add shine and flexible hold. Apply a richer cream to your soaking wet hair, section by section, before following up with a gel. Diffuse your coily hair or air dry and then mist with the Flawless Finish hairspray.  
4 Steps to Remove Hairspray Build Up
If you are concerned whether hairspray can be bad for your hair, remember that your scalp health should be at the forefront of your mind to promote a healthy environment for your hair. Should you experience hairspray build-up on your scalp, you may find that your scalp becomes itchy and dry, and your hair becomes limp and lifeless as a result. To avoid or tackle hairspray build-up and make sure hairspray doesn't become bad for your hair, ensure that you:  
Pre-poo your hair: Clarifying shampoos

can be stripping so always ensure that essential moisture is maintained by using a primer, such as the

Super Slip Pre-Wash Primer.


 
Use a clarifying shampoo:

These stronger

shampoos

are specifically formulated to remove all build-up from the hair. The Curlsmith

Wash & Scrub Detox Shampoo

also contains micro-fine, eco-friendly beads that exfoliate the scalp. 




 
Rebalance with a rinse-out conditioner:

Following a clarifying shampoo with a

conditioner

to rebalance the scalp and hair's pH is essential. The scalp-safe

Post-Wash Calming Conditioner

also contains soothing ingredients such as tea tree and peppermint. 




 
Prep with a leave-in conditioner:

Once your hair is rebalanced, add essential moisture back into your strands with a

leave-in conditioner

, such as the

Weightless Air Dry Cream

. 




 
These steps will leave your scalp refreshed and your hair reset and ready for more styling fun! 
Hold your hairstyle for longer with Curlsmith
While hairspray may have had a bad reputation in the past, Curlsmith has rewritten its future with the Flawless Finish Hairsprays. These cruelty-free, vegan products offer a curl-friendly approach to styling, meaning even the unruliest locks can now be brought into line. If you are new to curly hair, why not take our Curl Quiz, where our experts will guide you through what products will work best for your hair and how to use them. Or, if you have already fallen in love with the Curlsmith products and ethos, why not join our Curlsmith Rewards scheme to earn points and exclusive rewards every time you shop!