Styling Wavy Hair with Effortless Waves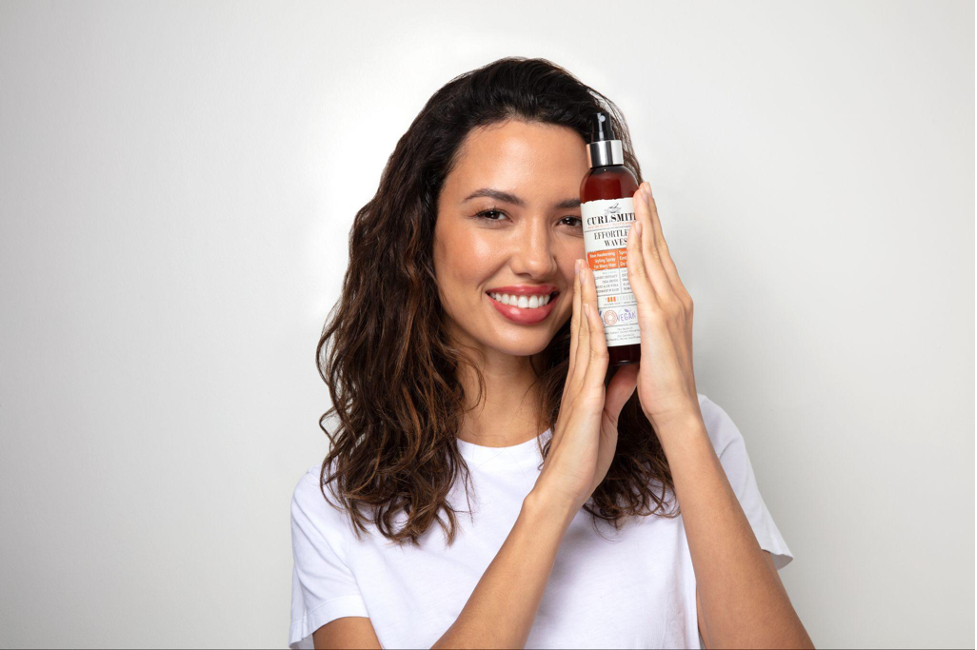 Curlsmith has launched a new product specifically for wavy hair. The new and amazing Effortless Waves will help to moisturize, enhance and define your waves every wash day. Styling your tresses doesn't have to be complicated, so whether you're new to discovering your waves or a wave expert, this is the perfect styler.
Effortless Waves: Your Questions Answered
Introducing Effortless Waves 
Wavy hair is also referred to as type 2 hair and is the loosest of all the curly hair categories. Take the curl quiz to Identify your curl type and characteristics. This is an important part of understanding your hair to ensure you get the best outcome from a haircare routine. 
At Curlsmith, we know that keeping things simple when looking after your tresses is an important factor, especially when you are new to discovering your waves. That's where Effortless Waves come into play by providing your locks with all the luscious ingredients needed to pop with minimal effort.
Benefits
Our new lightweight styler has several benefits that include; 
Enhancement of natural waves without drying them out (no alcohol)

Curly girl friendly

No crunch feeling

No sticky residue

Reduces frizz
Now that you know all the benefits of using our new product, let's dive into the wave-loving ingredients.
Key Ingredients
Belonging to the moisture recipe range, you can expect the usual juicy ingredients such as;  
Andiroba-

an Indigenous plant of the Amazon forest known for its nourishing and stimulating properties

Resurrection Flower-

a desert plant that can last up to three years without water, known for its moisture retention properties

Basil, rosemary, and sage-

known for their anti-oxidant and nourishing properties
The unique ingredients in Effortless Waves that make it so special include;
Vegetable active technology made of Linseeds and Chia Seeds

- both known to define and maintain your waves whilst reducing frizz without that crunchy feeling.

Squeezed Aloe Vera

- nourishes and moisturizes the hair thanks to its content of amino acids and vitamins.
All those juicy ingredients, no wonder this product can deliver every time you wash your wavy hair!
Effortless Waves: Your Questions Answered
By this point, you are all probably excited to try our new product, but first, let's answer some questions that may arise to ensure that you get the most out of every use.
Who is this styler designed for?
No matter if you have a loose medium or tight wave, this styler will serve your needs; further to this, it's suitable for all hair porosity types and textures.
Can I use the Effortless waves in replacement of my leave-in conditioner?
We do not recommend replacing your leave-in conditioner with Effortless Waves, as each product has different functions. Effortless Waves is a styler, and we advise priming the hair with a leave-in conditioner before any styler from our range.
Can I use it on dry hair?
For best results, apply to wet hair.
Does this product have any hold?
Curlsmith uses a hold bar at the front of every styler to indicate the hold level ranging from 1-10, 1 being light hold, 10 being a stronghold. Effortless Waves is level 3, which we describe as an invisible hold. Your tresses will benefit from definition and a soft hold without leaving a cast. If you require more hold, then layer with a gel styler.
Is this suitable for fine hair?
Yes! This styler suits all wavy hair types. You can even use Effortless Waves on fine, damaged hair. To create more volume in your fine hair, layer with our Volume foam mousse or Thickening Lotion.
By now, you should have all you need to know about our new product; all that's left to do is try it yourself!
How to Apply Effortless Waves
Once you have shampooed, conditioned, and applied your chosen Curlsmith leave-in conditioner, follow these simple steps.
Ensure that your tresses are soaking wet, and keep a water bottle on hand to apply a light mist if you notice that your strands are drying out.

Section your hair and apply a few sprays to your mid-lengths and ends. 

Use the raking method to ensure that the product is evenly distributed and to encourage clumps. 

Follow with the scrunch and pulse method if you want to further enhance your waves.

Take another section of hair and repeat the process until you have covered all your tresses.

Air dry or diffuse your wavy hair
Get Wavey with Curlsmith
Regardless of what point you are at in your wavey journey, you can rely on Curlsmith to provide you with gourmet haircare. Our products are cruelty-free and vegan-friendly; we only use curl-loving ingredients to ensure that your waves pop every wash day! If you want to know what other products would complement your Effortless Waves styler, then take our curl quiz today to receive personalized recommendations.