Curly Hair Styling Techniques & Product Application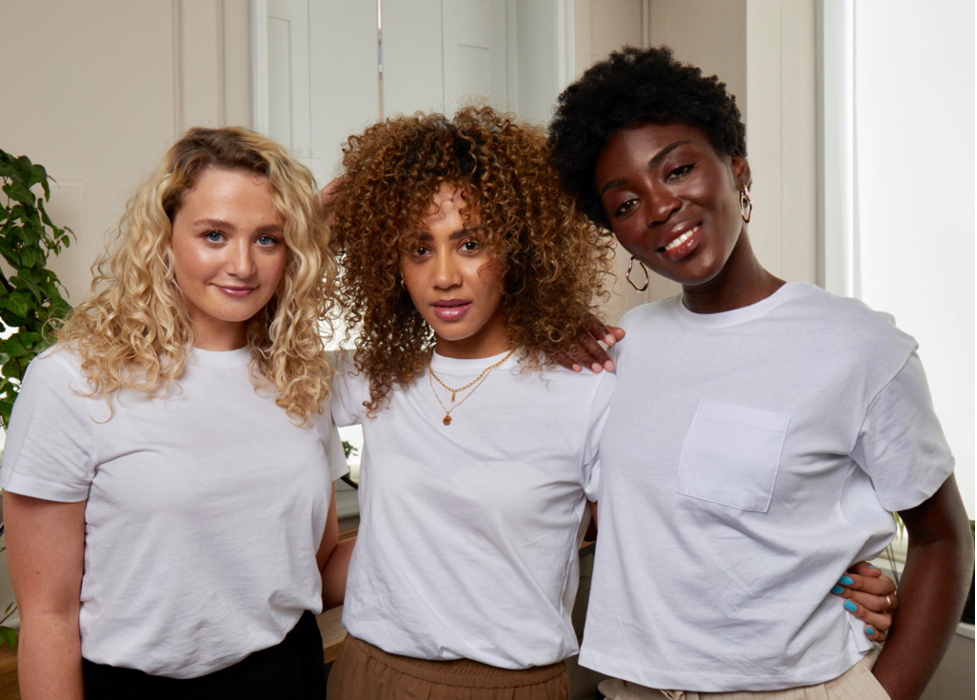 Styling curly hair can be simple if you know the right product application methods and styling techniques. The following article will explain the importance of using methods such as Praying Hands and Raking to distribute products throughout your tresses evenly. In addition, we will look at various styling techniques to enhance and define your curls, such as Shingling, Finger Curling, and Pulsing.
How to Apply Product to Curly Hair
When applying your curly hair products, there are a few things to remember:
Apply a blob of product to the palm of your hand.

Rub both hands together to have an even film of product across both.
If you fail to do this, that blob on your palm will become a blob on your hair, making even distribution challenging. A thin film across both hands makes the styling techniques much more effective. Let's review the methods used to apply your products to understand the benefits.
Raking
The Raking method is used on freshly washed hair to evenly distribute the styler, detangle the hair and help to encourage curl clumps.
Once you have sectioned your hair, apply the product to your hands and rub them together to spread it evenly across your palms.

Use your hands like a comb and rake the product through your hair.

Repeat this action until the section is detangled and the product is distributed throughout the section.
All of Curlsmith's stylers are suited to this method, so choose depending on your personal preferences.
Praying Hands
I know what you're thinking; what a strange name for an application method, but after reading the following, it will all make sense. This method is great for assisting with even product distribution and smoothing the cuticles. Again, any styler is suited so choose depending on personal preference.
Once you have sectioned your hair, apply your chosen product evenly across the palms of your hands.

Sandwich your hair between your hands and smooth the product down the lengths and ends, avoiding the roots.

Repeat the smoothing action a few times per section, ensuring the product is evenly distributed.
Both methods work on all curls types; however, you may find that one works better than the other; try both to see what works for you. After applying your products, choose a styling technique to enhance and define your curls. Let's take a look at what they may be.
Shingling
Shingling is a styling technique that requires patience and time but delivers high definition and helps to control frizz. The method is best suited to curly hair and coily hair types. Shingling is carried out on freshly washed hair after your leave-in conditioner is applied using a method such as Raking. The Shingling technique requires a styler; for a medium hold, use a styler such as our Curl Defining Souffle. If more hold is required, use a gel, such as our In Shower Style Fixer.
Section your hair and apply your styler to the whole section using the Raking method

the hair should start to clump naturally.

Take the individual clumps and run your fingers and thumb downward, ensuring that you are smoothing the styler from roots to ends.

Wrap the clump around your finger for extra definition, or leave it to fall naturally

Repeat this throughout your entire head

Air Dry, or if volume is required, diffuse your hair.

Finger Curling
Finger curling is a technique to define curls that may be a bit unruly. Use this technique after you have applied your product evenly through the hair using one of the methods mentioned above.
You may not need to finger curl throughout your whole head. In some instances, there may be certain areas that require extra definition.
Take sections according to the size of curl you require

Curl the hair around your finger and gently pull down

Repeat this action wherever necessary

Air Dry, or for more volume, diffuse
Pulsing
The Pulsing method helps to encourage and enhance your natural curl. A styler such as our Hydro Style Flexi Jelly will add definition to your tresses without compromising on volume. Proceed with this technique in a few simple steps.
Gather a section of hair in your hands upwards towards the scalp.

Pulse a few times in your hands

Release the hair to reveal your defined curls

Air dry, or if volume is required, diffuse.
You now have an understanding of the terminology used when styling your hair. Although some of the styling techniques may take more time than others, the end results are worth it!
What to Avoid
When applying products to your tresses, always keep a water mist on hand like our Continuous Spray Bottle, to prevent your hair from drying whilst styling. Also work the product into your hands before applying to your hair to help with even application.
Guide To Stylers
We have various stylers available across all of our recipe ranges that vary between benefits and levels of hold. Whatever your desired outcome, we have you covered with a range of creams, jellies, foam, souffle, and gels. Check out the descriptions below to help identify what would suit your needs.
Hairsprays 
Our hairsprays hold your curls in place so you can love your look for even longer. They don't leave you with crunchy or sticky hair, and help to protect against frizz and humidity. 
Creams
Our styling curl creams moisturize and enhance curls while offering a light hold without creating a cast. Great for those that want a natural finish with soft and bouncy locks. If you like definitions and hold, layer with a stronger hold styler.
Jellies
Our jellies' lightweight water-based consistency glide through your tresses to provide definition and hold without compromising on volume. Our jellies are great for those that feel like gels weigh down their and flatten their curls. While drying, a temporary light cast helps to keep your curls defined. Once 100% dry, scrunch the slight crunch to reveal luscious locks.
Foam
If you like weightless hold and volume, Foam is the perfect styler. Achieve airy, bouncy tresses for all curls and textures; especially beneficial for damaged curls as it contains protein. Use on its own for looser curls or tighter curls; layer with a gel for more hold.
Souffle
Our souffle is the perfect solution if you want more than a styling cream but are not ready to commit to a gel. It's the perfect styler that helps to moisturize curly hair and hold for flexible curls.
Gel
The thick consistency of curly hair gels creates a strong cast while your hair is drying to offer ultimate definition and long-lasting frizz control with weather protection for your curls. Once 100% dry, scrunch the crunch of the gel cast to reveal soft and bouncy tresses.
Style with Curlsmith
Finding what works for you can be a process of trial and error, so be patient and remember that practice leads to perfection. Also, having the right combination of curly, wavy hair products, or coily hair products can make this process much smoother. If you require further assistance selecting stylers, take our curl quiz to receive personalized recommendations.