Kids Hair Tips and Advice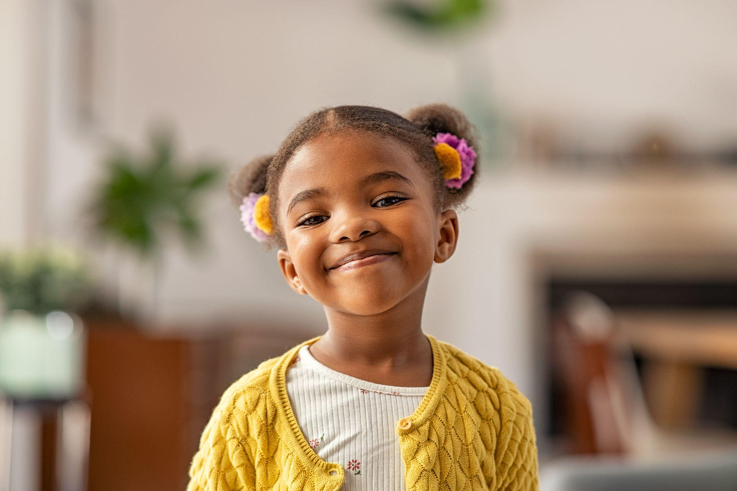 You may face many challenges when raising a child; however, their curly hair shouldn't be one of them. Learning how to care for kids with curly hair may feel daunting, especially if you don't have curly hair yourself. The key to overcoming this challenge is education and a great product range that you can rely on to provide the hair with all the right ingredients needed to nourish, condition and style. The following guide will answer questions typically asked regarding taking care of kids' curly hair, along with advice on styling, tools, accessories, and a few easy go-to styles to make your morning routine smoother.
Curl Type
There is so much information just one click away regarding education around curly hair. However, this can be a problem for some if you don't know where to start; fortunately for you, Curlsmith has you covered. Start by identifying your child's curl type; wavy, curly or coily. Finding out from the start is essential because it will help focus your education around their particular curl category.
Products
Next, you need to find the right products to suit your child's specific needs, and thankfully, there's no need to trail the internet for hours. Simply take the curl quiz, which asks a range of questions to provide you with a personalized selection of products to assist you throughout your kid's hair care routine.
You now know where to start and how to get the right products to suit your child's needs, but there is still more to learn.
FAQs with Style Ambassador Jennie Roberts
Recently our stylist ambassador Jennie Roberts held a seminar at the Afro Hair and Beauty Exhibition. She provided tips and advice on how to care for kids' curly hair whilst going through a wash day routine using the Curlsmith products on a live model. Parents had the opportunity to ask questions; let's look at what they were.
How often should you cleanse your hair?
Cleanse the hair every five days (minimum) to wash away dirt and pollution from the scalp and hydrate the hair.
Should you deep condition, or is regular conditioner ok?
If your hair isn't in tip-top condition, you might need a deep conditioner to get it to where it should be. If your hair is in good condition and you're not abusing it with heat or chemicals, then an everyday conditioner will suffice, but it won't do any harm to give your hair some extra hydration and suppleness every once in a while.
When is best to detangle the hair?
Apply a good slippery conditioner and detangle when the hair is wet. Use a wide-tooth comb or special detangling brush and be gentle. Work from ends to roots.
Are Curlsmith products suitable for children?
Curlsmith products are derived from natural products. Vegan, sulfate free and no nasties, so perfect for children.
My child doesn't like to wear a bonnet at night; what else can you recommend?
It's sometimes challenging to get a child to wear a bonnet at night. If the hair is long enough, I pile it into a loose top knot with a silk scrunchie. I then cover it with a silk scarf or handkerchief and secure it with another scrunchy making a bun bonnet.
My daughter doesn't like her natural curls. Can you provide any advice on how to approach this situation?
Positive affirmations are needed every day about your child's wonderful texture. Teach them to love it. If you're struggling with your child's hair, learn to take care of it. Don't put your struggles onto the child. They can carry a lifetime of negativity around with them. Show them examples of people with curly textured hair and teach them how to care for it and celebrate it so they feel empowered and proud.
Kids Hair Care Product Guide
Jennie provided her words of wisdom to some commonly asked questions about caring for curly hair, but you still need a breakdown of a good hair care routine. The results from the curl quiz provide the products for a four-step method with an optional treat step depending on your needs. Let's take a closer look at what this entails.
Shampoo
Firstly, you need to cleanse the hair using a gentle cleansing shampoo like our Vivid Tones Vibrancy Shampoo. It's essential to do this regularly to keep the scalp clean. Try to have a consistent scheduled wash day, so your child becomes used to a routine.
Condition
This stage is crucial as the condition smooths the cuticles and provides great slip to enable easy detangling like our Glow Perfecting Conditioner. Separate the hair into four sections to ensure that you detangle it thoroughly. Make sure you start from the ends and work your way to the roots to avoid unnecessary hair knotting.
Leave-In Conditioner
People often question how important this step is, and the answer is; essential. The role of a leave-in conditioner is to provide moisture and prime the hair ready for the styler. Our Weightless Airdry Cream is great for all hair types.
Styler
The type of styler used such as a cream gel of foam will differ depending on your desired finish; you may want a soft hold styling cream that moisturizes and defines, like our Hold Me Softly Balm. Alternatively, apply a medium hold gel like our Hydro Flexi Jelly.
Optional Treat
Optional treats may include oils that break the cast, seal the cuticle and add shine, such as our Shine Oil. Or a hair mask that nourishes dehydrated hair suitable to use once a week for an intense conditioning treatment, like our Double Cream Curl Quencher.
How to Style Kids Hair
Following the four-step method is an excellent foundation for understanding and providing the hair with what's needed to maintain healthy curls. In conjunction with this is the styling element.
There are various methods to style the hair using techniques such as praying hands, finger curling, shingling and scrunching, which are all great to help create beautiful curls. However, wearing your curls out and free isn't practical for children going to school, so let's break down three easy school styles.
Half Up, Half Down
We've all been there with the battle of your child wanting to wear their hair down for school. We as parents know it's impractical; their hair will continuously fall on their face whilst working, and let us not forget about the dreaded knits. So why not meet in the middle with a basic half up half down style.
Part the hair ear to ear and split the top in half by parting the hair down the middle.

Smooth the base of the top sections with a curl cream like our

Hold Me Softly

.

Secure with a satin scrunchie to avoid friction and breakage to the hair.
French Braids
French braids are the way to go if you want cute and convenient one. To achieve this style:
Split the hair in half by parting from the middle of the front hairline back to the centre of the back hairline.

Clip one side away and apply a moisturizing styler with medium hold, such as our

Curl Defining Styling Souffle

.

Work this product through the mid-lengths and ends and then proceed with braiding; repeat on the other side, and you are all set with beautiful braids.
Bunches
This hairstyle is a classic style, with the primary objective of securing the hair into one. To achieve a sleek base,
Split the hair in half by parting from the middle of the front hairline back to the centre of the back hairline.

Apply a light hold such as our

Shine Jelly

,

Smooth with a brush into the middle of the section and secure with a satin scrunchie; repeat on the other side.

Either leave the ends out; plait, twist or secure it in a bun; it's beneficial to involve children in their hair care journey, so ask their preference.
Great! You have got it in the bag for daytime styles, but you may be wondering what happens at night when you go to bed.
Bedtime Routine
Your nighttime routine has a significant impact on your morning routine, so do not try to skip this step. The best options at night is a loose bun secured with a satin scrunchie or a loose plait; pair with a satin scarf, pillowcase bonnet or, as Jennie mentioned, a satin bun bonnet.
Maintaining curls may seem like a long task; however, some issues can occur if you don't have a good routine.
Common Issues
Common issues due to incorrect care are matting and excessively tangling caused by not detangled regularly or thoroughly. Breakage due to the wrong tools or accessories such as traditional hair ties or brushes and combs unsuitable for curly hair. Dry, broken, frizzy hair due to not protecting the hair at night with satin or silk; both great materials to prevent unwanted frizz and breakage
Avoid common issues and ensure that your child has healthy, manageable curls. Head to the curl quiz to receive your personalized hair care products and be on your way to confidently managing your child's curly hair.