5 Curl Care Tips for Hot & Humid Summer Months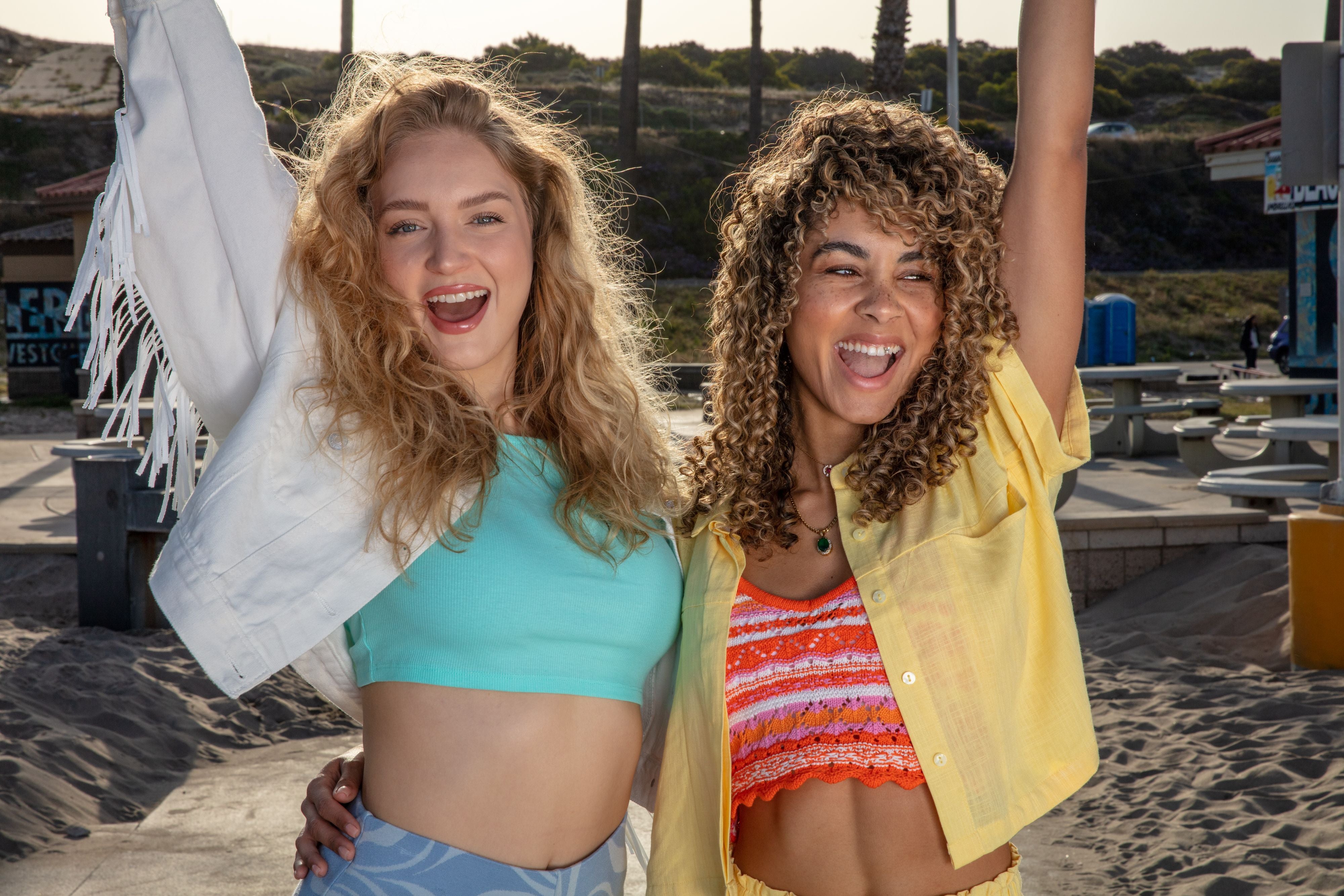 Curls need protection throughout the summer and environmental aggressors such as UV rays, humidity, seawater and chlorine can lead to damage, causing dryness, frizz and breakage.
Table of contents
Curly hair can already be tricky to manage on the best of days and the last thing you need is a bad hair day. Whether you live in a climate with high heat and humidity or you're on vacation, ensure you're taking extra care of your curls to avoid unnecessary damage. We've put together an expert guide with commonly asked questions from our community of curlfriends when it comes to taking care of your curls during the summer months.
Why Does My Hair Look More Frizzy During the Summer?
During the Summer months, although we all appreciate the sun there is only one thing that hot weather and humidity lead to; frizz. This occurs because the hair typically becomes drier through the Summer due to factors such as UV exposure, seawater and chlorine. When the hair is dry the cuticles become raised and seek moisture from the humid air around it, once this moisture enters the hair it swells, resulting in unwanted frizz. To help fight against the frizz ramp up your hair care routine ensuring that you deep condition once a week. Use stylers that seal in moisture and tame frizz like our medium hold gel; Hydro Style Flexi Jelly or for a stronger hold, Shine Gel which offers humidity protection, definition and shine; suitable for all curl types. Finish by breaking through the cast created by the gel with our Bonding Oil that seals the cuticles and prevents frizz.
Do I Need to Deep Condition More Regularly During the Summer?
It's vital to deep condition your hair on wash days during the summer to keep curls feeling nourished and hydrated. Use after cleansing to maintain hair's moisture, especially if you're taking a dip in the pool, sea or if you're spending a lot of time in the sun. Try our Double Cream Deep Quencher for medium-coarse hair types or the Hydro Crème Soothing Mask for fine-medium hair types; recommended for weekly use.
Is It Necessary to Use A Heat Protectant?
It's essential to use a heat protection spray when using any heated tools. Try our Miracle Shield Spray, a full spectrum mist that not only protects against heat and UV damage, but also brushing and styling and even damage caused by seawater and chlorine. Its unique tri-blend technology has been proven to protect from summer's harshest environmental aggressors; suitable to use on wet, damp and dry hair (if you are re-styling in between washes).
Is It Safe to Use Heated Tools?
Unfortunately, heat and humidity force us to use our hair tools more often because we are likely washing our curls more or having to re-style frequently. When diffusing, try to stick to medium to low heat to avoid overheating the hair. Use tools that are specifically catered for curly hair like our Defrizzion Dryer & XXL Diffuser. The dryer provides even, gentle heat to minimise damage while the revolutionary 8inch diffuser covers more hair at the same time, allowing for an even airflow that helps keep frizz to a minimum.
How Do I Protect My Hair When Swimming?
After using a heat protection mist (we recommend our Miracle Shield Spray), it's advisable to use a hair oil such as our Bonding Oil which helps seal in any protective ingredients. Since oils are hydrophobic, they will also help to create a barrier to avoid water penetration if you plan to take a dip in the sea or pool. If you're sensitive to fragrance, try Shine Oil which is fragrance-free.
Do I Need to Use A Protective Hairstyle For My Curls?
Protective styles like braids and twists help to retain moisture and prevent tangles or breakage. Some protective hair styles can last up to 8 weeks and therefore it's important to keep hair hydrated with a leave-in conditioner such as our Moisture Memory Re-Activator. To ensure that the hair stays healthy once a protective style is removed use our Intense Treatment Serum and finger detangle; this can be left to soak in the hair as a pre-poo treatment. Following the pre-poo clarify with our Wash and Scrub Detox Pro-Biotic cleanser to remove any build up and deep condition with our Double Cream Deep Quencher enriched with Shea Butter to lock in moisture.
How Do I Keep My Curls Hydrated?
It's essential to seal in hydration using a leave-in conditioner such as our Weightless Air Dry Cream that will smooth over curls, moisturise and and support with keeping hair hydrated. To further discourage frizz, use a strong hold gel such as our Curl Defining Styling Souffle which is enriched with Babassu and Shea to help seal in moisture; suitable for all curl types.
Summer Care for Your Curls
Ultimately, your curls require a little extra TLC during the summer months so it's key to dedicate some extra time on implementing a good self care routine. Regularly getting your hair trimmed and cutting down the use of styling tools will help to keep hair healthy. And while those summer cocktails and beverages may be refreshing they can also be dehydrating so make sure you stay hydrated by drinking water throughout the day.