5 Ways Tea Tree Oil Benefits Your Hair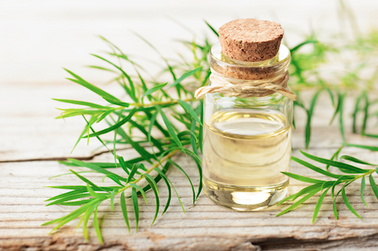 The benefits of tea tree oil for hair can help tackle the problems your locks may face. From dry, flaky scalp, to stunted growth. Harnessing the powers of tea tree oil for your hair, can help your follicles thrive and leave your hair feeling healthy. Our expert guide walks you through how this ingredient can transform your curls, and how to use it.
Table of Contents:
What is Tea Tree Oil?
Tea tree oil, also known as melaleuca oil, is a naturally-occuring essential oil made from steaming the leaves of the Australian Melaleuca Alternifolia plant. Aboriginal people are known to have used this essential oil for centuries because of its soothing, anti-inflammatory properties. Tea tree oil benefits your hair, no matter your curly hair type. With properties which include being antibacterial and antiseptic, there is no wonder tea tree oil benefits your hair. When you're perfecting your hair routine, try reaching for one of the best hair oils to see its nourishing properties.
5 Benefits of Tea Tree Oil
There are many benefits of tea tree oil for hair, which can help your locks shine. Applying a few diluted drops, or switching to a product with tea tree oil in, could create a beautiful scalp environment in which your hair follicles can flourish. Whether you have curly hair, coily hair, or wavy hair, reach for tea tree oil for hair as it is bursting with soothing properties. Using an oil for curly hair can help to dangle the hair, by providing lubrication to get out those tough knots. From your hair, scalp, to promoting growth, unlock the tea tree oil benefits for hair.
1. Is Tea Tree Oil Good for Dry Hair?
Dry hair is an issue many people experience. A benefit of tea tree oil is that it is a natural hydrator, making it ideal for this complaint. Dryness could contribute to dull hair, which you don't love. A few diluted drops of tea tree oil benefits the hair, providing deep moisture to the strands. Adding this essential moisture can produce healthy, hydrated hair.
2. Does Tea Tree Oil Benefit Oily Hair?
Another way tea tree oil benefits the hair is through its help controlling your natural oils. Those with oily hair may be skeptical about adding more oil to their locks, but tea tree oil could help to control excess oils being produced. This happens because tea tree oil keeps the scalp hydrated and free from bacteria clogging up the hair follicles.
You may be wondering if it is better to choose a natural or synthetic oil for your hair. While a synthetic oil may provide some advantages, a natural oil, like tea tree, or coconut oil, offer their natural properties. Whilst a synthetic mineral oil could create a water-resistant barrier, which is more difficult to clean away. One of the central benefits of tea tree oil for hair is its natural source and nourishing properties.
3. Is Tea Tree Oil Good for Flaky & Itchy Scalps?
Your scalp is an essential part of your hair health, so keeping it happy can transform your tresses. Tea tree oil benefits hair through its antibacterial properties, helping you avoid a flaky scalp. The ingredient can be a savior to those suffering with dandruff. It helps to soothe, cleanse and improve your scalp health. Not only does tea tree oil benefit your hair, it can reduce an itchiness your scalp may experience. The soothing properties of tea tree oil reduce inflammation and remedy itchy scalp.
4. Can Tea Tree Oil Remove Scalp Build-Up?
Tea tree oil for hair acts as a natural cleanser. Thanks to both its antibacterial and antiseptic properties, you can use it regularly to promote a clean scalp. The tea tree oil benefits the scalp, removing scalp build-up by melting product accumulated. Think double cleansing in skincare - but for hair!
Here at Curlsmith, we love the soothing benefits of tea tree oil for our hair, which is why we incorporate it into our scalp range. The strength of already having this essential oil in products means it's easy to apply. Using products containing tea tree oil benefits have no bad smells, and no health risks due to applying too much.
5. Is Tea Tree Oil Good for Hair Growth?
Stimulating hair growth is one claim often associated with the many benefits of tea tree oil. Whilst there is no scientific evidence to prove a direct association, this essential oil could help to cleanse the hair and clear up clogged hair follicles. This in turn could help to promote hair growth.
This action occurs when you massage the oil on the scalp, as the mechanical action increases blood flow. In collaboration with this, the oil's properties also help to fight bacteria on the scalp, which helps strengthen the skin microbiome and fights conditions such as dandruff. That way, the benefits of tea tree oil can include hair growth if used correctly.
How to Use Tea Tree Oil
As tea tree oil benefits hair in so many great ways, knowing how to use hair oil correctly is important to achieving optimum results. We have to remember that tea tree oil is an essential oil. Essential oils are highly concentrated ingredients, so they shouldn't be used on their own or they may risk making the skin too sensitive. The best way to use tea tree oil benefits is to mix a few drops with another carrier product that will ensure even application.
A great way to see the benefits of tea tree oil for hair is to mix it with some coconut oil and massage it on the scalp. Do this before you use shampoo or a hair treatment. When you stimulate your scalp with tea tree oil it helps improve the condition of your follicles, which is the foundation for healthy, shiny hair.
If you are trying tea tree oil benefits on your hair for the first time, the safest way is to use a product which contains it already. This way you are less likely to experience any irritation. Our Post-Biotic Calming Conditioner has been created exactly for this purpose. Within this bottle, the benefits of tea tree oil combine its anti-bacterial and anti-inflammatory properties to help prevent scalp build up. It works in conjunction with our Super Slip Pre-Biotic Primer and our Wash and Scrub Detox Pro-Biotic Shampoo. The combination of these three products can help to create a healthy scalp environment. Something that is vital to see the benefits of tea tree oil for hair, and achieving luscious locks!
Treat Your Hair with Curlsmith
Our curl-loving, premium products contain more than just the benefits of tea tree oil, they are gentle enough for any hair type. From conditioners and leave-in conditioners to lock in moisture, to stylers to perfect your stunning bounce. Transform your locks with our vegan and cruelty-free formulas.