Best Leave-In Conditioner for Curls, Waves & Coils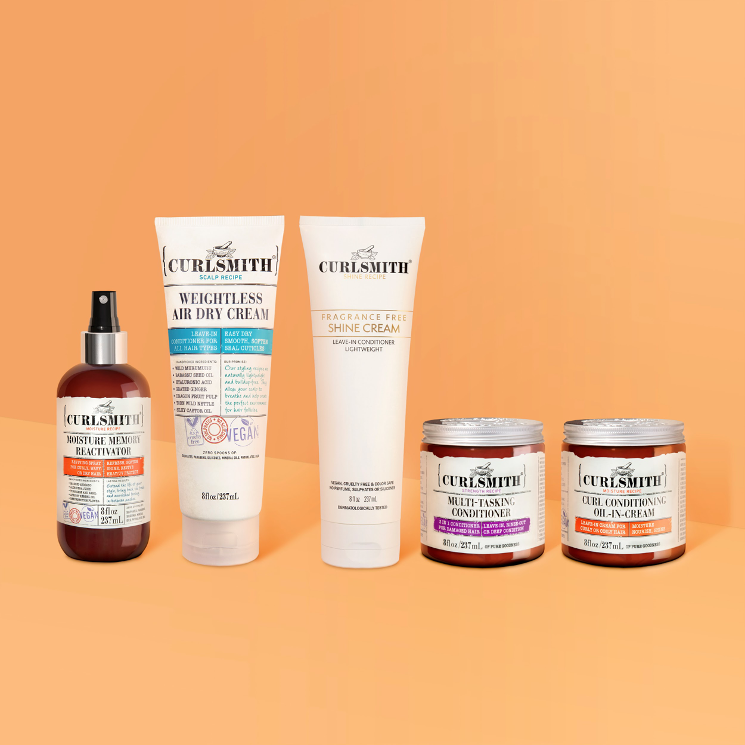 Finding the best leave-in conditioner for curly hair is a must as it's a crucial step to a successful wash day routine. Some may skip this step because they're unaware of the benefits of a leave-in conditioner and the fact that it's suitable for all curl types or textures. 
Our curly experts will inform you about the benefits, the role, and which leave-in conditioner from the Curlsmith range will best suit your needs.
Table of Contents: 
Although we have 5 different leave-in's to choose from dont worry about trying to figure out which one would best suit, if you take our curl quiz it will provide you with the ideal products for you.
Benefits and Role of a Leave-in Conditioner
There are several advantages to using a leave-in conditioner for curly hair, such as:
Moisturize your locks to assist with detangling.

Enhance curl clumps, and priming the hair ready for the styler. 

The creamy conditioner penetrates your strands leaving your tresses smooth, supple, and nourished. 

Strengthens your tresses and prevents damage.

Adds shine to your luscious locks.

Adds lightweight moisture and definition to all curl types and textures
Let us take a closer look at the choices available in the Curlsmith range.
Introducing Curlsmith's Best Leave-in Conditioners 
Choosing the right product will ensure that your curly hair isn't weighed down and receives all the goodness needed to keep your tresses healthy. Within our range, we have a leave-in conditioner to serve the needs of those with damaged, dry, fine, coarse, or dull hair. There is something for all curly hair types, textures, and needs! 
Without further ado, let's break down the benefits to help select the right product for you.  
Best for Damaged Hair
If you are suffering with damaged curly hair, look no further than our multitasking 3-in-1 conditioner that can function as a rinse, treatment, or deep conditioner. As well as featuring moisturizing ingredients, the conditioner is enriched with proteins to repair the hair, strengthen, and prevent breakage. 
The balance of moisture and protein in this amazing conditioner means you don't need to worry about protein overload if used regularly. Whether you have a wave curl or coils, this is our best leave-in conditioner for damaged hair.  
Best for Adding Moisture 
As you now know, one of the benefits of leave-in conditioners is adding moisture to the hair. Therefore, when considering which product is best for this, it is a simple answer: all of our leave-in conditioners. 
However, the Moisture Memory Reactivator, Hold Me Softly Style Balm, and Oil-In Cream are from the Moisture Recipe range. Therefore, their main focus is primarily on delivering moisture. You will find a product within this assortment to suit whether you have fine, medium, or coarse hair. 
Although adding moisture to your hair is beneficial, be sure to periodically use protein in your hair care routine to ensure that you don't experience moisture overload. Maintaining a balance of both moisture and protein will keep your curls poppin.
Best for Between Washes
We all benefit from refreshing our curls between washes, so as curl connoisseurs, we have the perfect product to revive your curls and bring back that bounce. Our Moisture Memory Reactivator is the perfect lightweight leave-in that also functions as a refresher spray. Best of all is that it's suitable for all of our curlfriends. 
Best for Shiny Hair
If your main goal is to achieve shiny hair, look no further than our Shine Cream, the best leave-in conditioner to deliver just that. The lightweight consistency glides through the strands to moisture, hydrate, and prime the hair for the styler. It features ingredients such as lemon peel and jasmine hops known to increase shine and promote glossy hair. 
In addition, this product has been dermatologically tested and is great for those with sensitivities as it is fragrance-free. Out of the five leave-ins available in the Curlsmith range this would be your go to for shiny hair.
Best for Definition
Although every leave-in conditioner in our range helps to define your curls, our Weightless Air Dry Cream is a best seller that caters to all curl types and textures, even fine hair. It features moisturizing ingredients such as Babassu, Castor, Jojoba, and Muru Muru to nourish all texture types while leaving your tresses light and airy.  
Best for Coarse Hair
Hair texture plays a vital role in product selection. Those with coarse hair will benefit from a richer product to deliver the right amount of moisture to their strands. 
Our Oil-in Cream is our richest leave-in and delivers moisture until your next wash day. No need to worry about weighing down your locks, even though it's rich in moisture as it's formulated to absorb into your strands without leaving them greasy or sticky.
Best for Fine Hair  
Lightweight products are essential for fine hair, as you want to avoid weighing your curls down. However, you may be tempted to skip your leave-in conditioner because of this fear. With this in mind, our Moisture Memory Reactivator and Weightless Air Dry cream include lightweight moisturizing ingredients that nourish your strands. Therefore, both products are the best leave-in conditioners for fine hair. 
Step by step to using a Leave-in Conditioner 
Often people need clarification on how to use a leave-in conditioner if they have used a rinse-out conditioner in their wash day routine. Follow the simple steps for the correct use of the product.
Firstly, shampoo and condition as part of your curly hair wash routine.

Once washed and rinsed, apply a leave-in conditioner to the mid-lengths and ends of your hair.

Use the Raking method to assist with finger detangling and product distribution. 

Working in sections, use a hair tool of choice to help with further detangling.

 
The choice is yours on whether you want to do this while in or out of the shower. If you choose to do it out of the shower, try to avoid drying your hair with a towel, as you still need your locks to be wet before applying your leave-in conditioner.
Three things to avoid when choosing a leave-in conditioner 
As with any hair product there are things that you should avoid when using a leave-in conditioner such as;
Ensure to use a leave-in conditioner and avoid using a rinse-out as a leave-in. Rinse-out conditioners are formulated with ingredients designed to rinse from the hair after a particular time. In contrast, our leave-ins include ingredients that benefit the hair by being left on. The long and short of it is, please use the products in their intended way. 

Don't use too much product, a pea sized amount should be sufficient for each section however, this will vary depending on the density of your hair.

Avoid applying the product directly to your roots.
In addition, knowing your hair's texture and condition is important, as some leave-ins are designed explicitly for coarse, fine, damaged, or dry hair. 
Flourish With Curlsmith
By now, you should clearly understand the function and benefits of a leave-in conditioner. All of our products are created with the ingredients curls love to make your curls flourish. If you are still trying to decide which leave-in best suits your needs, take our curl quiz, answer a few questions, and receive personalized recommendations.