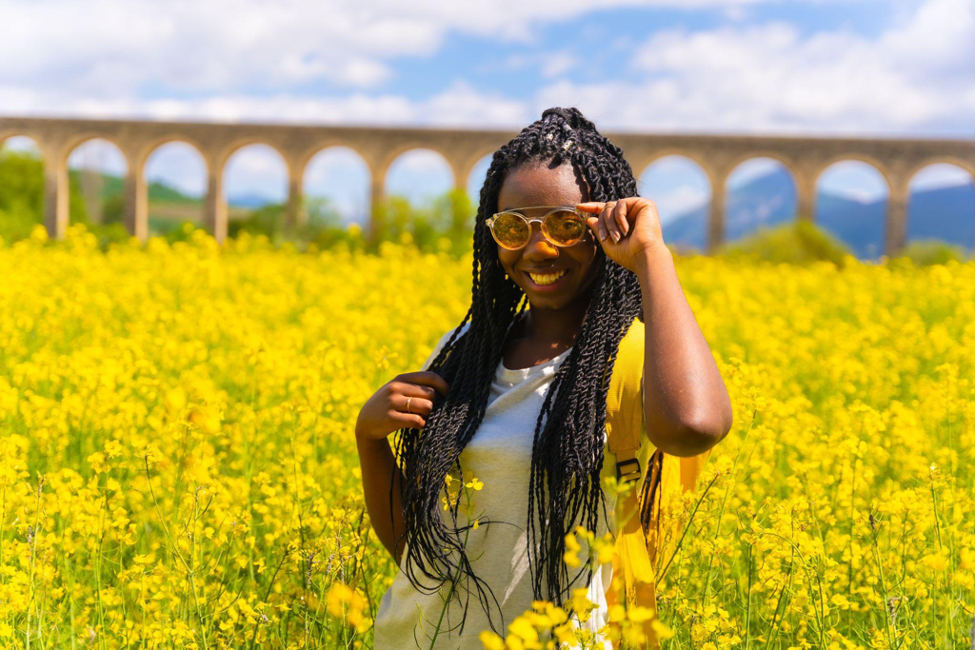 It's officially holiday season and travel is well and truly underway, so let's get into holiday hair 101. We all know the struggles of packing light, let alone when you have curly hair you simply can't rely on whatever 2-in-1 shampoo the hotel may have on offer.
Table of Contents

There are so many things to consider when thinking about how to care for curly hair during the summer, such as protection against UV rays, chlorine, sea salt and humidity. On holiday, various products are needed to guarantee great curls, from cleansers to finishing products and everything in between. You may be thinking, how can I fit several products in my suitcase? Rest assured Curlsmith have you covered with a wide range of products available in travel size so go and pack all the clothes and shoes desired without worrying about the weight of your hair products.
5 Popular Holiday Hairstyles
As well as products to ensure your curls are ready for those rays, let's take a look at some popular holiday hairstyles.
1. Messy Bun
It's not a holiday unless you utilize the versatility of a messy bun. Whether you are at the pool or attending an evening meal, this is the perfect go to that doesn't require much effort when styling. Prior to securing your bun, apply a heat protector like our Miracle Shield that defends against UV rays, chlorine, sea salt and color fading.
2. Half Up, Half Down
A great go to style for a daytime or evening look, keeps your hair away from your face whilst enjoying your curls falling from the back. Define your curls with a styling cream to add moisture like our Hold Me Softly Balm paired with our Shine Gel for hold, definition and protection against humidity. When your curls are dry, crunch out the cast with our Shine Oil. Depending on your mood or desired look, style the top with a bun or ponytail to complete the look.
3. Tendrils
The famous 90s tendrils are more popular than ever,, and they look great with curly hair. Use a leave-in conditioner such as our Weightless Air Dry Cream to add moisture, and then follow with a medium hold gel styler like our Hydro Style Flexi-Jelly that provides weightless definition and volume to set your curls. Once fully dried, crunch out your curls with our Bonding Oil and secure your hair in a high or low ponytail with your soft tendrils on either side.
4. Braided Bun
If you are tired of styling your hair in a traditional bun, why not jazz it up with a braid to add texture and detail. Apply a styling cream with light hold like our Feather Light Protein Cream prior to braiding, so when you take your braids out you can enjoy some beachy waves.
5. Passion Twists
Great for when you don't want to worry about doing too much to your hair whilst on holiday. The best part is that you can also style your twists in various ways such as half up half down, high pony, low bun, and more. If necessary, add that finishing touch by laying your edges with a strong hold gel such as our In-Shower Style Fixer.
Top Tip: Be mindful that you aren't applying too much tension on your twists, as this can cause discomfort and breakage.
When choosing your holiday hairstyle always remember to use accessories that are kind to the hair to assist with keeping our curls in tip-top condition, let's take a look at what that might include.
Holiday Hairstyle Accessories
Satin Scrunchies
Choosing a satin scrunchie opposed to a traditional elastic hair tie, the soft smooth material reduces tension and prevents breakage; great for all curl types.
Styling with a Scarf
Try styling your hair with a satin scarf, not only does it help to block out those harmful UV rays, there are so many benefits of using satin, mainly being that it helps to retain moisture as it is a non-absorbent fabric. You have the option to style your curls in various ways, such as tying your hair up loosely first or leaving your luscious curls down.
Styling Products
Now that we have covered hairstyles and accessories, let's talk about key products. During the summer months and especially on holiday, you will find that you need to wash your hair more often. However, as we all know, curly hair should not be cleansed excessively to prevent stripping away the natural oils. Therefore, it is beneficial to co-wash in between shampoo days in order to retain natural oils within the hair. Using our High Definition Curls Kit provides all that is needed for regular refreshing and curl definition. If your curls are feeling particularly dehydrated, use a deep conditioner such as our Hydro Crème Soothing Mask for fine to medium hair types or our Double Cream Deep Quencher suitable for dry or coarse hair. If you require protein, our Multitasking Conditioner for all curl types has you covered. For hair that feels like it is damaged, our Bond Curl Rehab Salve is a great pre-poo designed to target those weakened bonds and fortify the hair strands. Finally, don't forget that regular heat protection is a must, our Miracle Shield has various layers of protection and is suitable to apply to wet or dry hair, so there is no excuse not to give your hair that daily protection.
You are all set to go with a variety of styles, accessories and products to ensure your hair is looking and feeling great on holiday. If you are still unsure of what products suit your individual curl type, take our curl quiz to assist, and don't forget to select in the travel size where available.