Type 2A Hair: What Is It & How to Care For It?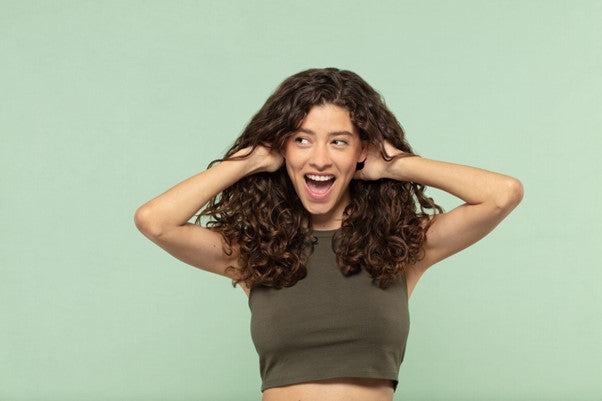 Type 2A hair is the loosest form of wavy hair on the curl chart, which specifies three types of beautiful waves: 2A, 2B, and 2C. Each type of wave requires a different approach in terms of care, products, and identification, so join us as we discover the intricacies of type 2A hair.
Type 2A Hair: What Is It & How to Care For It?
What products are best for 2A hair?
How do the wavy patterns compare; Types 2A, B, and C?
What is Type 2A hair?
Type 2A hair is the loosest form of wavy hair, identifiable by hair that falls straight for most of the hair length before forming a gentle wave nearer the end of the hair shaft. It often has quite a beachy, tousled texture and tends to be less defined than 2B or 2C waves. The correct products, however, can really maximize the potential of type 2A hair, enhancing those waves and creating a beautiful style that will be the envy of all!
How can you identify 2A hair?
The curl chart is often very subjective, and it can be difficult to pinpoint your exact hair type. Type 2A hair is usually characterized by:
A gentle wave that can form an S-shape towards the ends of the hair. Not all 2A hair forms an S-shape – you may just have a small flick at the ends of your hair.

A less defined look than tighter wave patterns, with a beachier vibe.

A root and mid-length area that sits straight, with little to no curl or wave.

Minimal shrinkage that may not be noticeable from wet to dry.

Larger curl clumps that break apart and become less identifiable whilst diffusing or air drying.
Type 2A hair elongates throughout the day or overnight, struggling with heavy products and hold. It can become very flat and lack body, especially at the root, and will likely need extra help to maintain the curl pattern and volume throughout the day.
This type of hair is often described as "straight hair with a few waves" but the "few waves" are exactly what sets it apart from straight hair. While it may be the loosest type of wavy hair, 2A hair is undeniably a curl pattern and is not the same as straight hair.
How do you care for 2A hair?
Waves can be tricky to care for, given their tendency to drop and become frizzy. The following tips will help you avoid making any mistakes with your wavy hair and will really enhance those 2A locks:
Clarify and wash regularly:

Type 2A hair, particularly, can struggle with greasier roots and weigh down. As such, regularly

washing wavy hair

with a stronger

shampoo

is necessary to ensure your waves stay bouncy.

Incorporate dry shampoos to avoid over-washing the hair:

Whilst type 2A hair needs to be washed more regularly, over-washing can cause damage to the hair. Incorporating a dry shampoo can tackle oily roots, without the need for a rewash.

Minimize the moisture in your routine:

As 2A waves are the loosest curl pattern, they tend to be less dry as sebum (our scalp's oils) is more able to move down the hair shaft. As such, the hair needs less conditioning within a routine.

Detangle from end to root with conditioner in your hair:

Post-shampooing, make sure your hair is saturated with a light

conditioner

before detangling from end to root. This will avoid breakage,

control frizz

, and maximize definition for your 2A waves. 

Avoid heavier products and focus on hold and protein:

Oily or very

hydrating hair products

will weigh down loose waves and this is especially the case for type 2A. Focus instead on lightweight products that add lots of hold and strength to your hair.

Hard-hold gels

or protein-rich products will be perfect to enhance and add longevity to your waves.

Embrace volumizing and texturizing products:

Create lift at the root and add hold and texture to your waves. Your 2A wave's new best friend is

volumizing and texturizing products

!

Don't shy away from air drying:

As 2A waves don't shrink much when drying, air drying can help you embrace the beachy, tousled look they can give. Micro plop before air drying to remove excess water and to ensure the water weight doesn't elongate your hair too much.

Pineapple your waves overnight:

A pineapple (or high ponytail) with a

satin scrunchie

will keep the waviest parts of your hair on top of your head, keeping them from being crushed overnight. This allows you to use fewer products when you

refresh

your hair, avoiding weighing down those 2A waves.

Minimize your refresh as much as possible:

Set your 2A waves up on wash day with

strong hold styling products

, and protect your hair overnight with by tying in a pineapple and using

satin pillowcase

to minimize your refresh. The less product and water you can use on a refresh, the better.
What products are best for 2A hair?
The right products can make or break a wavy girl's look. Enhancing your waves through a combination of hold, protein, and volumizing products can really make the most of your beautiful hair. Let's walk through what a beneficial wavy haircare routine might look like for 2A hair:
Best shampoo for type 2A hair:
Invest in two shampoos; the first should be protein-rich, such as the Core Strength Shampoo, to help strengthen your waves; the second should be clarifying, such as the Wash & Scrub Detox Shampoo, to remove build-up and avoid weigh-down. Alternate these shampoos every wash day for maximum results.
Best conditioner for type 2A hair:
After cleansing, follow up with a protein-rich, lightweight conditioner like the Multi-Tasking Conditioner. Focus your conditioner primarily on the mid-lengths and ends of your hair.
If your hair starts to feel dry, you may need a little extra conditioning in the form of a deep conditioner. Again, look for a lightweight, protein-rich product. The Multi-Tasking Conditioner is perfect for this, as it requires being left on the hair for up to 30 minutes.
Best for styling type 2A hair:
Focus on hold, volumizing, and texturizing in your selected styling products to help maximize the longevity and definition of your waves. 
A typical styling routine for 2A waves could look like this: 
Rope a volumizing or texturizing product through your soaking-wet hair to help build up body in your hair. Roping the product in involves coating your palms with the product and then squeezing that product into each wave clump with your hands. This technique helps to bring your clumps together and adequately coat them in product. Perfect products for this are the

Full Body Thickening Lotion

or the

Bouncy Strength Volume Foam

. Ensure to apply these types of products from root to tip to ensure volume throughout the hair.

Use a microfibre towel, such as the

Curlsmith Microfibre Towel

, to remove the excess water from your hair. Take care not to disturb your curl clumps too much. Don't allow your hair to become too dry during this process, as you will likely cause frizz when scrunching in your gel.

Finally, for a very lightweight flexible style, add the Effortless Waves spray to the mid-lengths and ends of your hair. If you need a harder hold approach, add a hard-hold gel, such as the

Shine Gel

instead. Less is more when it comes to hard-hold gels, as some can be a little on the heavier side

. Finish your styling with a hairspray, such as the

Flawless Finish Spray

. This will add extra hold without any of the weight.
Do's and Don'ts for 2A hair
We have now established how to type your 2A hair and care for it. Here are the do's and don'ts we recommend that will help you establish the perfect haircare routine for you.
Do…
Utilise lightweight products and layer only a few on wash days and refreshes.

Go light on the conditioner – use less within your routine and don't overdo the deep conditioner.

Scrunch and rope products into the hair to avoid breaking up wet curl clumps.

Clarify your hair regularly, and don't delay too long between wash days.

Style upside-down, or use root clips to promote root volume.

Incorporate protein, texturizing, and hold products into your routine.

Scrunch out excess water before drying your hair to avoid water weight elongating your waves.

Air dry or diffuse

on low heat and low speed to avoid creating extra frizz.

Pineapple your hair overnight, with your waviest sections above your head.

Minimize refreshes, using as little water and product as possible.

Make a choice on your haircut: a one-length cut can prioritize how wavy your hair looks, whereas layers can prioritize volume. Be careful though – cutting the hair too short can remove the wave entirely.
Don't…
Use oily or heavy products.

Cut your hair too short. As the wave of 2A hair is primarily towards the ends of the hair, it is very easy to cut off the wave altogether.

Rake the hair or break up your curl clumps too much whilst styling. This can lead to frizz or stringy waves.

Diffuse your hair on high speed or heat. Because 2A waves are so delicate, it is very easy to break the waves up whilst drying. If you choose to diffuse, use low heat and speed to avoid this.

Use sleep protection methods that crush the ends of your hair, thus crushing the waves.

Go overboard on your refresh; minimize your product and water usage as much as possible.

Feel like your loose waves are any less; your hair is not straight and is a legitimate curl pattern. Embrace it!
How do the wavy patterns compare; Types 2A, B, and C?
The main difference between the wavy curl patterns is where the wave begins to form. For 2A hair, the wave will form at the end of the hair strand. For 2B hair, the wave forms from midway down the hair shaft. 2C hair has waves that start much closer to the root. 
2A hair tends to be the least defined of all the curl patterns, with a beachier vibe and much less visible curl clumps. Type 2B and 2C waves tend to be more defined and can spiral from S-shapes into ringlets at the end of the hair strand. This is much less common with 2A hair. 
Curl clumps for 2A hair tend to be the biggest, and 2C hair tends to be the smallest. 2C clumps stay together better whilst diffusing, whereas 2A curl clumps may come apart a little more (again, this gives the hair its beachy, tousled look.)
What's next for my 2A hair?
We trust that this guide is useful in establishing a comprehensive routine for your 2A waves but, rest assured, the Curlsmith experts are here to help if you still have concerns. Why not take our Curl Quiz if you are unsure of your curl pattern or what products to use? With a wide range of cruelty-free, vegan hair products, we are sure that we can help you establish a routine that will unlock your beautiful wavy hair.